City wakes up to Judiciary-bashing banners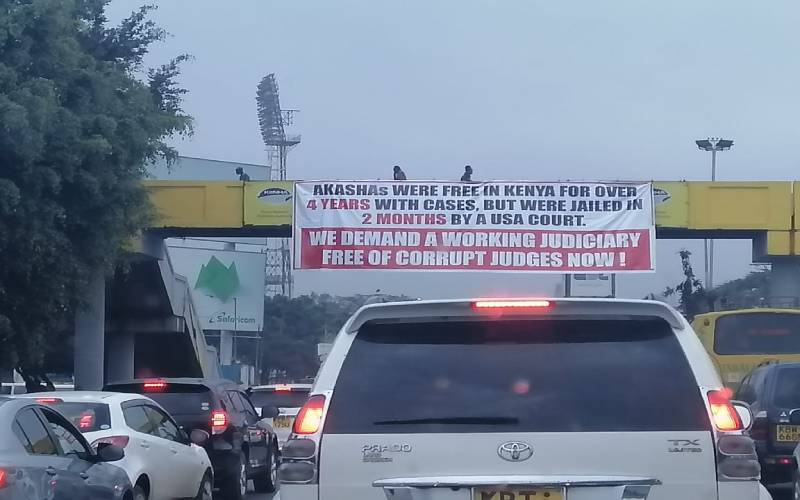 Motorists driving into Nairobi Central Business District Tuesday morning greeted to a peculiar sight of banners hanged on various footbridges hitting out at the Judiciary.
The three banners bold white on a red background shouted: WE DEMAND A WORKING JUDICIARY FREE OF CORRUPT JUDGES NOW!
Whoever placed the banners are still unknown.
One of the banners suspended on the Nyayo Stadium footbridge along Mombasa Road read: AKASHAS WERE FREE IN KENYA FOR OVER FOUR YEARS WITH CASES BUT WERE JAILED IN TWO MONTHS BY A USA COURT
The Akasha brothers were arrested in Mombasa in November 2014 after a sting operation led by the Federal Bureau Investigations.
US authorities said that the Akashas supplied 99 kilograms of heroin and two kilograms of methamphetamine to Drug Enforcement Administration informants who posed as drug traffickers.
In January 2017 they were extradited to the US from Kenya.
In 2018, they were charged and pleaded guilty before US District Judge Victor Marrero in Manhattan to seven criminal charges, including distribution of heroin and methamphetamine and conspiracy to import the drugs into the United States.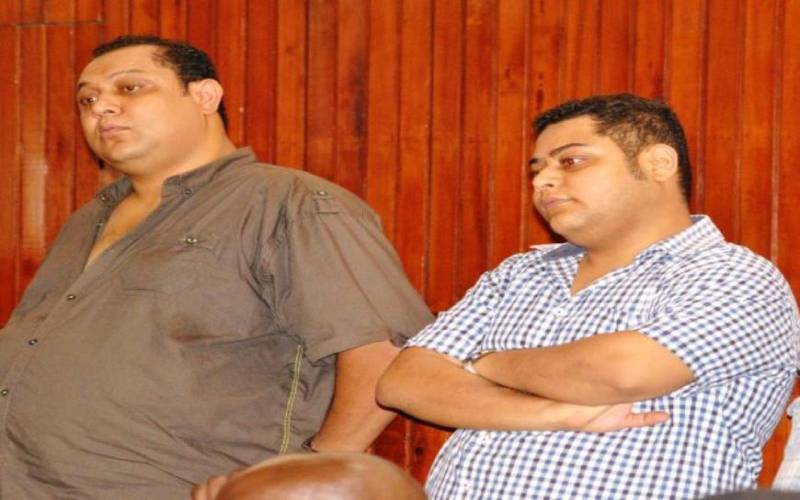 Baktash Akasha was sentenced to 25 years imprisonment in July 2019 while his younger brother Ibrahim got 21 years in December.
In their confessions, the brothers said they bribed judges and other Kenyan government officials to dodge arrest and obstruct justice.
The speedy investigation and prosecution of the Akasha brothers by US authorities put the judiciary in Kenya on the spot after failing to convict the duo for years.
While briefing the media on the state of the judiciary alongside President Uhuru Kenyatta, CJ David Maraga admitted that the organ was ashamed of itself.
"Selective convictions"
Another banner at the Pangani footbridge slammed the Judiciary for selectively convicting poor people while the rich walk scot-free.
WHY IS THE MAJORITY OF INMATES IN KENYA THE POOR PEOPLE? the banner asked.
There is no official statement outlining the number of convicts based on their wealth or status, however, notable personalities are hardly sentenced in Kenya.
The Pangani banner was complemented by another one along Landhies Road asking why powerful politicians adversely mentioned in corruption are never jailed.
The judiciary has been faulted periodically for slowing down prosecution of cases against top government officials.