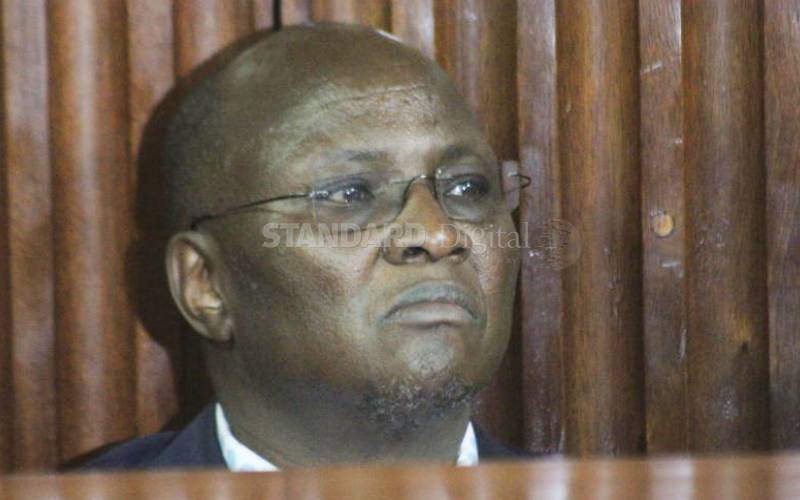 Lawyers representing city lawyer Assa Nyakundi (pictured) have been accused of delaying a case in which he is charged with manslaughter.
Kiambu Principal Magistrate Teresiah Nyangena yesterday ordered Lawyer Harun Ndumbi to continue with the submissions.
"You cannot be making adjournments, you have to proceed," she directed.
Ndumbi told the court the defence was not ready to proceed as lawyer John Khaminwa was unavailable.
Read More
The prosecution further blamed the defence for playing cat-and-mouse games as it didn't want the matter to progress.
Nyakundi's team was further accused of delaying the case by not explaining where Khaminwa was.
The prosecution said the defence is maligning the name of the Judiciary and prosecution, who will attract public criticism over the case delay.
The defense said the DPP was not willing to pursue the manslaughter charge while there's enough evidence for a murder case.
Nyakundi was charged with manslaughter after he allegedly killed his son Joseph Bogonko on March 17.
The State applied to review the charge it believes is lenient.
Nyakundi is out on Sh300,000 bail. He was charged on April 26, 2019, but the DPP wants the charges changed to murder.
Through his lawyers, Nyakundi opposed the move by the prosecution to have him charged with murder, saying he has already been charged with manslaughter.
On May 2, a Kiambu court allowed the DPP to review manslaughter charges against Nyakundi.
He sought orders to quash plans to withdraw the manslaughter charge.
The ruling will be made on March 26, 2020.