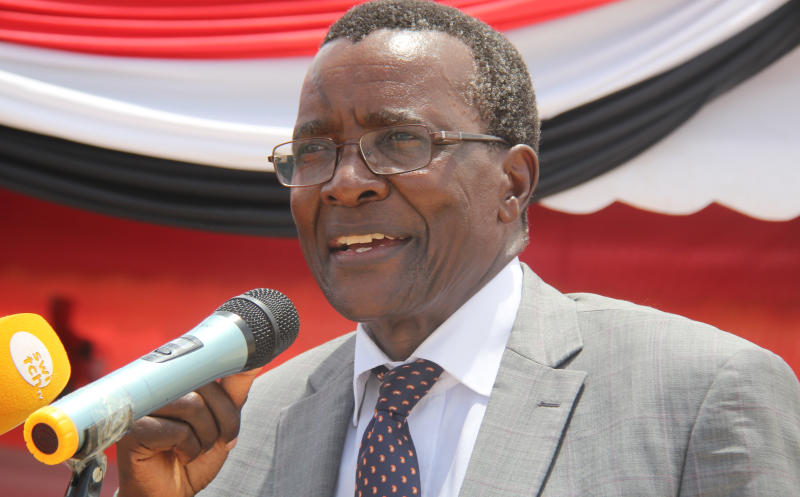 When Chief Justice David Maraga spoke yesterday, his message to President Uhuru Kenyatta was that of a man pushed to the edge of a cliff, but had opted for diplomacy to salvage a troubled judicial ship.
Justice Maraga, faced with meager funds and subsequent abrupt cut by Treasury, stalled judges' appointments and alleged weak link in the fight against corruption, had every reason to rant but he metaphorically pleaded for 'the president's intervention.'
Speaking during the launch of the State of the Judiciary Annual Report (SOJAR), the CJ said when courts issue orders against government officials, they retaliate by switching off the Integrated Financial Management System (Ifmis) that is used to channel funds.
In a bid to pacify the already frosty relationship with the Executive, his veiled message to Uhuru was that courts are crumbling in the fight between the Executive and the Judiciary, and Kenyans are suffering.
At one point, he urged Uhuru to 'disguise himself,' go to a court station and see the cry of many poor Kenyans whose cases have stalled as a result of lack of enough magistrates and judges.
"We run an institution which is like a hospital. If you disguise yourself your Excellency; if you go to Kibera and Makadara, you will see the pain of the people. Some are extremely poor. If their cases are not heard, they are in great pain. In last November and December we had abrupt budget cut which ground us into a halt. We tried to reach the relevant officials. I make calls and the calls are not responded to. You see where we are coming from," said Maraga.
He said that other than the Supreme Court, all courts countrywide have 50 per cent workforce to deal with more 400,000 cases filed each year.
The Judiciary head also revisited his outburst last year, clarifying he was not chiding the President. Maraga had vowed not to attend any State function, citing disrespect. He, however, told the president yesterday he was misunderstood as 'his league is at a lower level.'
Justice Maraga admitted that the indictment of drug lords Baktash Akasha and his brother Ibrahim in the US was a shame to the State and the courts
"Recently you spoke about the Akasha case that is a shame to our country. I agree with you. It is a matter that embarrasses us," he told Uhuru.
President Kenyatta said the country had few resources to share and apportioned part of the blame to Judiciary for issuing constant injunctions against government's quest to raise funds.
Uhuru urged the Judiciary to soul search and join in the fight against cartels and corrupt gatekeepers.
"But CJ, when we propose tax measures you are the first one to issue injunctions, where will it (money) come from?" asked Uhuru.
He waded mentioned the Huduma Namba case whose judgment will be read on January 30, 2020 as among major projects which courts had stalled.
Although he never named anyone, Uhuru said there was an individual who gets frequent court orders stopping government projects.