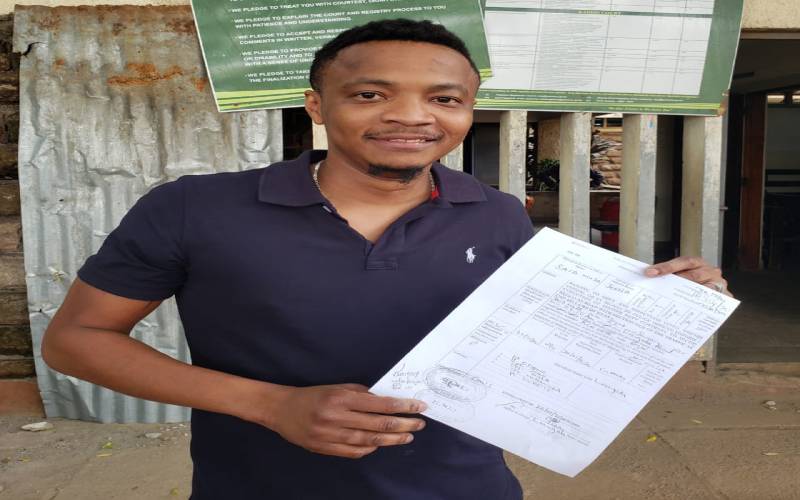 A man has been charged with disobeying police instructions after blocking a VIP motorcade that was driving on the wrong side of the road in Nairobi.
Saidi Musa Jobba on Wednesday morning at around 9.10 am blocked a convoy of four cars driving on the wrong side of Langata road.
Activist Boniface Mwangi said in a tweet that one police officer remained to facilitate his arrest by calling the Langata police.
Jobba was later on presented at Kibera Law Court with the charge sheet reading "failing to obey any directions given whether verbal or by signal by police officers in the execution of their duty contrary to section 52(1)(A) as read to section 52(2) of the Traffic Act (Cap 403) Kenya Law."
According to the charge sheet, Jobba allegedly refused to blow into a breathalyzer after police suspected him to be driving under the influence of alcohol.
He pleaded not guilty and was released on Sh10, 000 cash bail.
The case will be heard on March 4 2019.
Jobba's action comes barely a day after activist Boniface Mwangi blocked a government vehicle that was driving on the opposite side of the road.
In a video that went viral on social media, one of the vehicles with a siren and registration number GK 970R- was seen driving on the wrong side.
It is not the first time daring Mwangi blocked a government entourage. He did so on June 2019 and back in 2016 when he forced a driver of a Member of Parliament to reverse and follow traffic.
Last year the Inspector General of police Hilary Mutyambai made changes to directives of road clearance for VIPs leaving out governors and senators.
Those who enjoy traffic clearance privilege are The President and his Deputy, the First Lady, Chief Justice, Attorney-General, The Chief of Defence Forces, retired Presidents and retired Prime Minister.
A road can also be cleared for Cabinet secretaries of the ministries of Defence, Interior, Finance and Foreign Affairs and their Principal Secretaries.
Speakers and Majority Leaders of the National Assembly and the Senate also enjoy traffic clearance.
Others include the Service Commanders of Defence Forces, the Inspector-General of the National Police Service and his deputy, the Deputy Inspector-General of the Administration Police Service, ambulances and fire Brigade.