Police secretly transfers Babu Owino to Gigiri Police Station, cites security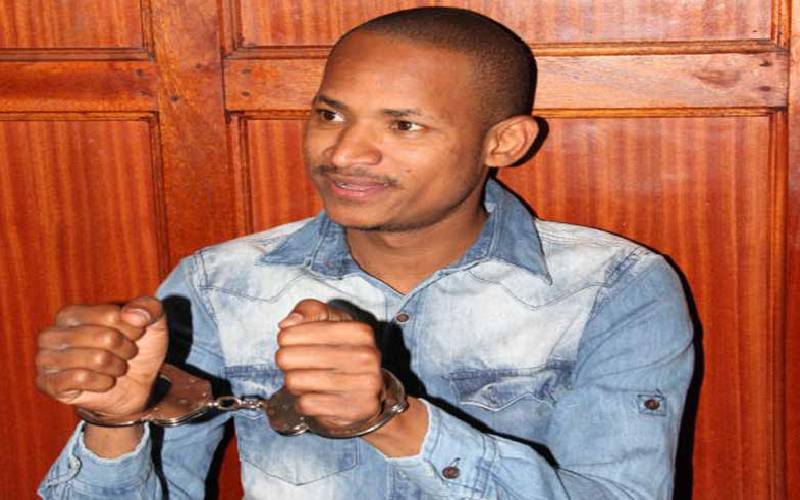 Embakasi East MP Babu Owino (pictured) will spend the weekend at Gigiri Police Station after secretly being transferred from Kilimani.
Babu was booked at Kilimani Police Station after being arrested over the shooting of a club deejay at B-Club, in Nairobi's Kilimani estate but was secretly moved to Gigiri in what police says security reasons.
According to DCI boss George Kinoti the MP will be charged with attempted murder.
"It is apparent that he wanted to kill the man," said Kinoti.
It has also emerged that Felix Orinda, popularly known as DJ Evolve, was shot twice in the neck in what some say was a joke gone bad. Others blame the MP and are demanding justice for the deejay.
Revelers who were at the club said it all began with a banter between the two, who teased each other about the size of their guns. It is not clear if the DJ (disc jockey) also had a gun or if the gun was a euphemism for something else.
It was in the middle of the argument over who carries the biggest gun, which had gone on for minutes that the MP is said to have reacted violently.
"Babu went into his pocket, pulled out a gun and swiftly shot at him twice," a reveller claimed.
In a video that has since gone viral, the MP is seen sucking on a pipe of what looks like shisha.
In the clip, Babu is seen surrounded by some people. When Orinda falls from the impact of the bullet, two men are seen dragging him across the floor.
"They were intoxicated. We are used to him and his friends coming here to get wasted. We did not think anything would go wrong," said a worker at the club.
They started to lightly poke fun at each other and the DJ joined in. A few minutes later, the shots rang out.
Insiders say the two were close acquaintances and were often together. Whenever he stepped into the club, he would go to the DJ's deck for a chat.
Before the shooting, little was known about the club's young resident DJ. Social media pages that bear his stage name, DJ Evolve, are the closest that one comes to understanding the DJ.
The pages contain snippets of his life as a young man in showbiz – drumming up support for upcoming shows, pictures of him on the deck plying his favourite craft or having a good time with friends.
In one of his favourite social media pictures, the DJ, in his trademark dreadlocks, is seen at the entertainment deck donning a blue sleeveless jacket and a white sweatshirt.
Those who have interacted with him paint a picture of a young man who was always aloof, except when he was hanging out with some of his clientele.