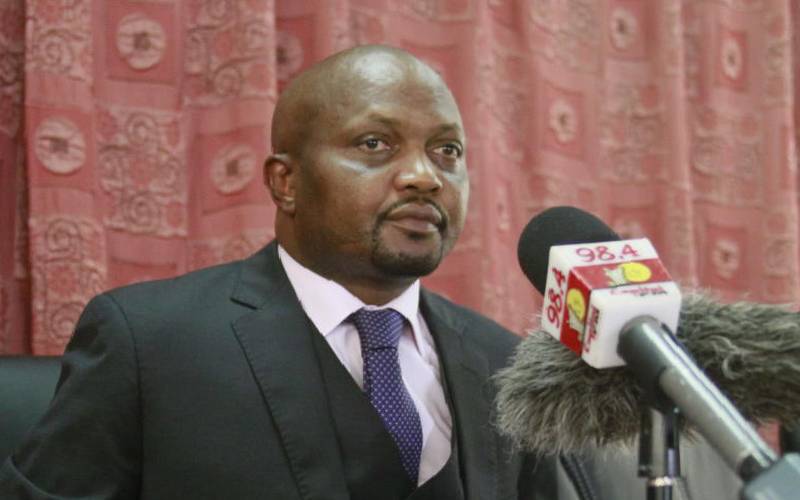 Controversial Gatundu South MP Moses Kuria said he had visited Kilimani Police Station to record statement when he was nabbed for assaulting activist and media commentator Joyce Wanja. Directorate of Criminal Investigation (DCI) in a tweet on Friday evening confirmed that the MP was arrested by detectives over assault and was being investigated over the matter. "Kuria was today morning arrested by detectives based at Kilimani following an assault report lodged against him on December 10, 2019. He is currently being held in lawful custody as further investigations ensue," said DCI in a tweet. Digital Strategist in the Office of the President Dennis Itumbi offered to record a statement in favour of Kuria after his arrest.
SEE ALSO: Kinoti's powers under siege as DPP ratifies new rules on criminal cases
Itumbi accused Wanja of trying to extort the Gatundu South MP, but opted to go to the police after Kuria refused to give in "I will be in Kilimani later to record a statement in his favour. The complainant wanted money. Moses said he was not guilty and would not be blackmailed! Hii ingine ni Cinema," Itumbi tweeted. Wanja alias Wagichungumwa had accused Kuria of punching and kicking her when the two met to discuss the Building Bridges Initiative (BBI) report at Royal Media Services Studios. Wanja claimed that the Gatundu South MP descended on her with kicks and blows while she was in her line of duty preparing to go on air for Inooro TV Kirîrîmbi show. According to Wanja, Kuria assaulted her after she had asked him to retract some of the statements he had made against women at a function to help orphans in Kiambu in the presence of children.
SEE ALSO: Officer who drove police car into ditch kills himself
Kuria had allegedly accused women of wearing smelly panties. He also said most of the women were whores who could be bedded anywhere without shame. "Whatever he said about women was demeaning and the remarks were made in the presence of children, that is why I told him to rethink and retract them, but instead he attacked me," she said in a video that has now gone viral. Wanja had asked the Director of Public Prosecutions (DPP), the Directorate of Criminal Investigation (DCI) and the police to ensure she got justice. She said even after reporting the matter to the police, no action has been forthcoming, saying if not punished, the MP would make it a habit of abusing and assaulting women. "It is now weeks since I was assaulted yet no action has been taken against Kuria. Is it because I am too small or I don't have money? The DCI and DPP must help me get justice,"
SEE ALSO: For the war against corruption to succeed, the DPP and DCI must keep their lanes
Wanja, recorded a statement at the Kilimani Police Station where she says she can only hope Moses Kuria is not too mighty for justice to be ensured. Four witnesses present at the time Kuria attacked Wanja have said they are ready to testify against the MP.