Police hunt for 'pastor' in Sh2.7b con game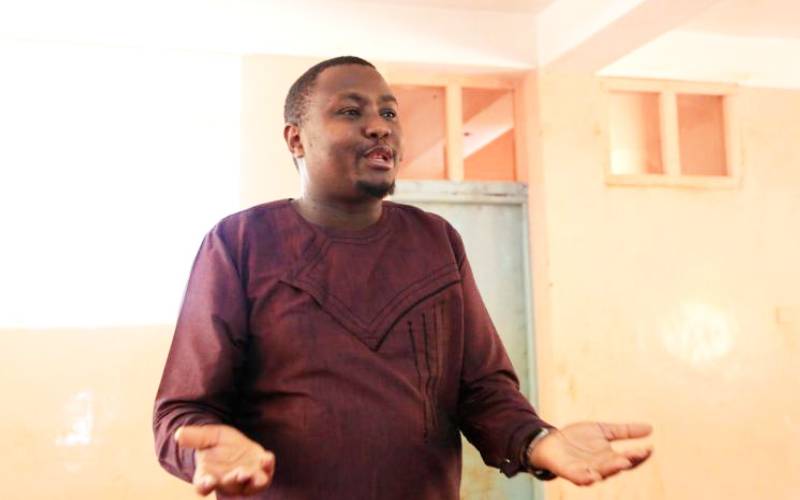 Police are investigating a man calling himself pastor, but who is accused of conning thousands of Kenyans Sh2.7 billion under the guise of investment in a virtual currency scheme.
Associates of Isaac Muthui in the Church Blaze Group Limited saga have thrown him under the bus as the fallout escalated over the suspect dealings in cryptocurrency, Nurucoin.
Two co-founders have disowned the businessman in the unfolding scam, which had at least 11,000 victims of the "investment" that was hatched four years ago.
A prominent city preacher is said to be among the investors, with 2,286 shares.
Investigators attached to the Capital Markets Authority (CMA) this week confirmed they were seeking Muthui to answer to charges of irregularly collecting funds from investors.
Among the issues the probe seeks to unearth is how the self-styled pastor, who has admitted to never ministering at any church, was able to collect so much money undeterred.
Investigators in the probe have reached out to the victims in the first step to understanding what they were promised and if indeed anything was delivered.
Amos Kisilu and Douglas Munga have told the Directorate of Criminal Investigations they resigned as directors in 2017 but only remained as silent shareholders.
"I resigned when I realised he was running the company without our involvement," Kisilu told The Standard.
He claimed that on confronting him, Muthui told him "Church Blaze is my own small kiosk".
Munga is reported to have invested Sh4.8 million in seed capital while Kisilu put in the technical and legal input in getting the company going.
Kisilu accused Muthui of going on a spending spree immediately the funds came through, as he wanted to build an image of a chief executive so that "investors could believe him when he came knocking".
Muthui's flashy lifestyle came complete with a new home address in New Muthaiga, one of the most affluent neighbourhoods in Nairobi, and Toyota Land Cruiser VX, much to the dismay of the co-founders.
Mercedes Benz gift
He also gifted his wife with a high-end Mercedes Benz, before making trips overseas, which he defended as roadshows to find investors.
On an ordinary afternoon, Muthui would drive to the five-star Kempinski Hotel to have lunch or afternoon tea with his family and friends.
With the decision to quit as directors, the two could be turned into prosecution witnesses, according to the investigators. By yesterday, the two were yet to be interviewed.
Following publication of our earlier story, Muthui finally resurfaced, reaching out to this writer through an internet call put from a line linked to an address in Anaheim, California.
It was not possible to tell if he was in the country, even though one of his friends indicated that they had met after the story first broke.
He disputed that he had collected the Sh2.7 billion as disclosed by insiders of Church Blaze, who were employed to handle finances.
"Yes, we collected money, but it was not that much. I cannot tell you how much it was," Muthui said.
He claimed that none of the investors was coerced to entrust him with their money and even then, he saw nothing wrong in raising funds from the public.
"This is a case of a chama (informal cooperative), which owns the company Church Blaze Group Limited," he said.
Muthui is listed at the companies' registry as a director besides his wife Frida Rhoda and Steven Githui Mbugua.
The city bishop with 2,286 shares is among 12 ordinary shareholders, besides Kisilu, Munga and Titus Kaswi Muia.
Kenyan laws do not allow for such fundraising, specifically without approvals from the Commissioner of Cooperatives.
Muthui, who invoked the name of God multiple times during the interview, said unnamed enemies were fighting to ensure that Church Blaze and Nurucoin flopped.
Church Blaze's head office premises in Nairobi's Garden Estate have been clamped months after all employees were let go. Muthui claimed the landlord's family was entangled in an ownership feud over the property, informing the closure.
All other regional offices were also vacated last year, ostensibly after the fundraising exercise accomplished its target.
For the start, he claimed to have made an application to the Central Bank of Kenya seeking authority to develop and roll out the cryptocurrency, Nurucoin.
However, the application was rejected in the "eleventh hour" on the behest of his supposed detractors who influenced the objection.
Among the incidents he pointed out was the freezing of his bank accounts in Equity Bank on the day some Sh2.7 million was paid in through PayPal by investors from the United States.
He denied that the bank accounts ever held more than Sh4.8 million at any time, even though the investor schedules in our possession indicate otherwise.
Some of the investors we spoke to confirmed buying shares in the company over extended periods, ranging from January 2015 through to early last year.
A tea packer based in Kericho and a teacher in Murang'a, for instance, confirmed buying into Muthui's wonder investment, which promised them huge returns.
Building a behemoth
Muthui could, however, not explain why anyone would want to fight his dream of building a behemoth of a technology company.
At the heart of the dream was raising funds from investors to build the equivalents of Facebook, Jumia, eBay, Airbnb and a queue management system, among others.
Subscribers of Church Blaze, Facebook's equivalent, would be drawn from the Christian faith globally and form the core market for the other platforms.
"We were under-capitalised, meaning we could not continue as planned," Muthui says of the botched investments, which exposed thousands to huge losses.
Transactions over the digital marketplace would over time switch to using Nurucoin as the currency of exchange to pay for hotel and travel bookings on the Homestay Safari platform.