Immigration Department to facilitate entry of Miguna Miguna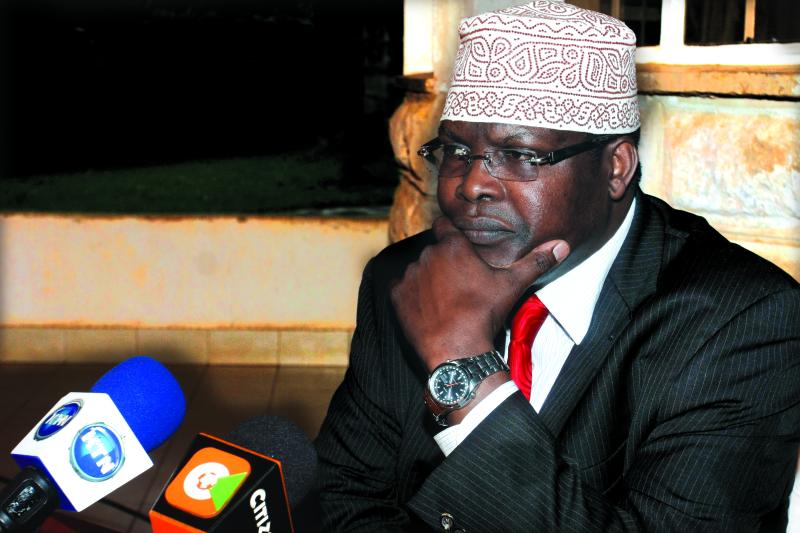 The Government will facilitate entry of lawyer Miguna Miguna back into the country tomorrow, Director General of Immigration Services Alexander Muteshi has confirmed.
A press statement from the Immigration Department partly read: "This is to confirm that in compliance with the court orders issued on December 14, 2018, the Directorate will facilitate Dr Miguna's entry into the country."
The statement came after fresh orders were issued by High Court judge Justice Weldon Korir, which directed the government to facilitate entry of Miguna Miguna.
On Monday, Miguna (pictured) affirmed that he had departed Canada for Nairobi. He told the Government to grant him entry into the country stating that he is a Kenyan citizen whose fundamental rights must be respected.
"I'm not asking for any special treatment. I have never sought so-called "red carpet" treatment. I want and demand all my rights and fundamental freedoms to be respected. I want my valid Kenyan passport back. I want court orders to be obeyed and complied with. I must enter Kenya unconditionally as a Kenyan," he posted on his social media page.
He then went on to laud his legal team headed by lawyer Dr John Khaminwa for seeking the court orders to direct the government agencies to facilitate his return.
His legal team moved to Milimani Law Court seeking orders that would bar State agencies from interfering with his return. Dr Khaminwa and his team wanted the State to comply with the court orders which were issued by Justice Chacha Mwita on December 14, 2018.
"The Application has been necessitated by the refusal by the State to comply with numerous court orders following his removal by some Government officials from Kenya," Mr Khaminwa said.
In the application, Miguna said that it was urgent because he wants to come back to Kenya on January 7.
"We pray that the honorable court be pleased to certify this application as urgent and hears it on a priority basis and during the court's Christmas recess," Khaminwa said.
A list of respondents in the matter include the Interior Cabinet Secretary Fred Matiang'i, Director of Immigration Gordon Kihalangwa, former Inspector General of Police Joseph Boinett, Director of Criminal Investigations George Kinoti, Mohamed Said, an officer in charge of the defunct Flying Squad and OCPD Jomo Kenyatta International Airport and Attorney General.
The lawyer sought an order to compel the State to facilitate entry of Miguna into Kenya on January 7, or any other date on the basis of his identification through his national identity card, or his Kenyan passport in the form and State it was delivered to the High Court Registry pursuant to the court order.
Miguna was flown out of the country via KLM flight departing Nairobi for Amsterdam at midnight, early 2018 after the state agencies failed to produce him in court pursuant to court orders.
On its defence, the government said that the lawyer had no valid documents to depict that he was a Kenyan citizen.
The Ministry of Interior spokesman Mwenda Njoka stated that he renounced his Kenyan citizenship years back, acquired Canadian citizenship and never bothered to reclaim Kenyan citizenship in the legally prescribed manner, neither did he disclose that he had another country's citizenship despite being a lawyer who should have known better.