New Year message: Uhuru calls for unity, pledges to address unemployment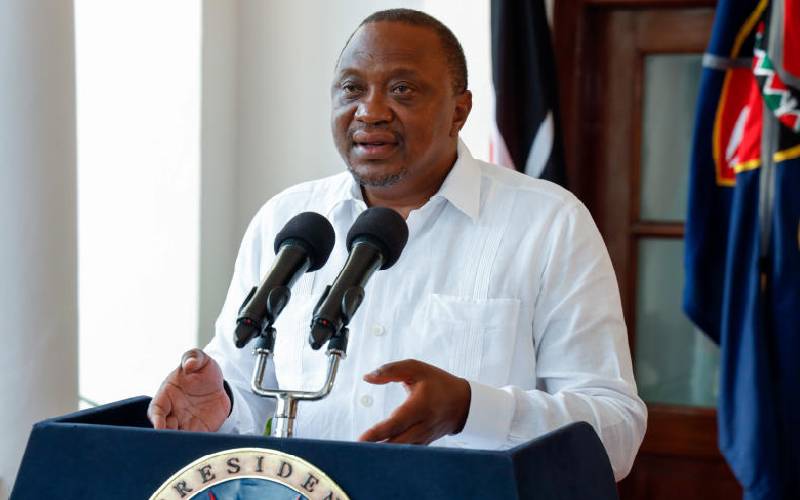 President Uhuru Kenyatta's New Year message to Kenyans centered around unity and nationhood as well as urging Kenyans to shun divisive politics.
In his New Year's speech at State House, Mombasa on December 31, 2019, Uhuru urged Kenyans to come together in order to turn challenges to opportunity and prosperity.
"In the year 2020, we will continue to make Kenya a better Nation for all her people as we build bridges of brotherhood among our peoples by weaving a stronger fabric of patriotism and nationhood."
He said the quest to have a united nation will be anchored under the Building Bridges Initiative; a process aimed at comprehensively addressing both historical and emerging national challenges.
"This New Year, and the new decade that it begins, present our Nation with tremendous opportunities to foster unity, prosperity, positive social change and the deepening of democratic gains and enhancing the rule of law."
These opportunities will require unity, commitment and bipartisanship for us to be successful in our quest to enhance inter-generational equity.
Uhuru urged Kenyans to put aside partisan differences, ethnic and cultural blinkers, social and religious divides and live as One Nation and One People, bound by One Vision.
"It is my sincere hope and prayer that in the New Year all Kenyans will come together and rally around our shared aspirations for a better Kenya," he said.
President Uhuru also said Kenya has undergone consequential transformation since independence by ushering in a new constitutional order and successfully implementing a devolved structure of governance.
He said the country continue to make progress in various sectors such as Education, Health Care, Food Security and Nutrition, Infrastructure, Renewable Energy, Defence and Security, industrialisation and many others.
Uhuru said the country take pride in Kenya's Vision 2030 and the Big Four agenda which are part of the national aspirations.
"Looking back at 2019, while it was not without its challenges, we can all take pride in the extent to which we made progress towards the full attainment of our national aspirations as espoused in our Constitution, the Kenya Vision 2030, and as focused through the Big Four Agenda," he said.
Unemployment
He said the government was committed to address the challenge of employment in 2020 through the Big Four agenda.
"By pursuing the Big Four Agenda's Pillars of Food Security, Affordable Housing, Universal Health Coverage, and Job Creation through Manufacturing; my Administration has committed to addressing the challenges of unemployment, poverty, hunger, inequality and poor health."
He praised Kenyans who exhibited world beating performance in various fields and urged everyone to work hard to better the image of th3e country
"In 2019, our country's profile continued to soar through the world-beating performances of our sportspeople; ground breaking research-findings and innovations by our Scientists and Researchers and our much-improved rankings in the World Bank Ease Of Doing Business Index," he said.
The Head of State also offered prayers for those who have endured difficulties such as loss of loved ones and illness.
"To those who have had a very difficult year, either economically or through personal tragedies such as the loss of loved ones or those battling illnesses, it is my hope and prayer that the New Year will usher in better days for you and for all of us."
He commended Kenya Defence Forces (KDF), the police, teachers, doctors among other sectors that diligently serve the country.
"The KDF serving at home and abroad; the National Police Servicemen and women who maintain safety, law and order in our communities; the dedicated Men and Women of the Public Service; our Teachers, Doctors, Nurses and all other cadres of Kenyans who diligently serve our Country; and our Farmers, Businessmen, Athletes, Artisans, Artists and Clergy. I thank you and pray for God's continued blessings and protection."