Ruto threatened me, claims Mutua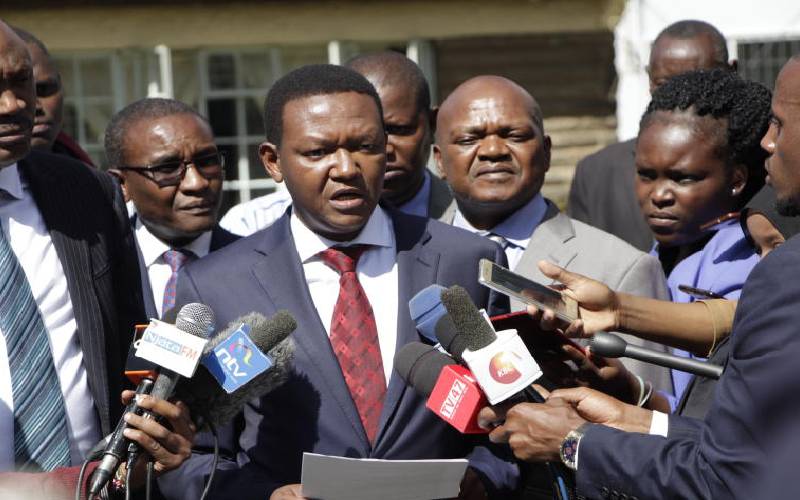 Machakos Governor Alfred Mutua has recorded a statement with the police alleging threats to his life.
Dr Mutua claimed that Deputy President William Ruto, Elgeyo Marakwet Senator Kipchumba Murkomen and Garissa Town MP Aden Duale on two different occasions threatened him with unspecified consequences because of his statements on integrity issues.
Mutua said he decided to go public because he felt the threats cannot be treated lightly for the sake of his personal security.
"Should anything unusual happen to me or members of my family or my associates, the three should be held accountable," said Mutua, after reporting the matter at Kilimani Police Station.
"I also write to request beefing up of my personal security," he said.
In the first incident, Mutua claims he was threatened by Mr Duale and Mr Murkomen on November 25, 2019, at State House, where the Maendeleo Chap Chap party leader had gone to witness President Uhuru Kenyatta receive the Building Bridges Initiative (BBI) report.
He said while waiting for the function to start, he conversed with other leaders and politely greeted Duale, who was engaged in a conversation with Murkomen. Mutua then recounted the alleged conversation.
Duale: Wewe, what is wrong with you?
Mutua: What do you mean my friend?
Duale: You have been attacking us and we will deal with you.
Mutua: How have I been attacking you?
Murkomen: Wewe (you) wacha zako, we have to teach you a lesson.
Mutua: What have I done? When did I attack either of you?
Duale: When you attack our team, you attack us.
Mutua: Team?
Murkomen: You have been attacking the DP.
Duale: Ukiguza DP, unaguza sisi (when you touch the DP, you touch us).
Mutua: I don't get you. Hon Duale, you and I get along very well.
Murkomen: Huyu niachie (I will fix him).
Then Murkomen walked away to speak to someone else.
Mutua to Duale: Ndugu yangu (my brother), you should not be threatening me. Wewe ni jirani yangu (you are my neighbour). You remember the time you said in Parliament that terrorists should not only attack Eastleigh or Garissa but should also attack Machakos? I defended you and said you used it just as an example and you could have mentioned any city in Kenya.
Duale: Utafanya nini? (what will you do?). Don't you know there are 50,000 Kambas in Garissa and I can deal with them?
The second incident, Mutua claimed, was on the evening of December 11, 2019 when he was a guest at State House for a banquet in honour of the Barbados Prime Minister, Mia Motley. During the function, Mutua said he was conversing with ODM leader Raila Odinga and other leaders.
"Someone came to speak to Raila and as I turned to speak to someone else, I came face to face with the Deputy President, who was in the company of Duale," said Mutua.
He extended his hand and greeted Ruto. The governor went on to detail the alleged verbatim conversation.
Mutua: Hello, Your Excellency Sir.
Ruto: (Holding on to his hand) Wewe jamaa umekuwa ukinichapa sana (you fellow, you have been attacking me very much).
Mutua: Your Excellency…
Ruto: (Still holding on to his hand tightly) Wewe lazima sasa nikugonge. Nitakugonga. (I must now hit you. I will hit you).
Mutua: Your Excellency, Sir, maybe we can talk about…
Ruto: (Pushing Mutua aside) Wewe ngoja utaona (wait, you'll see).
Duale: (Pointing at my chest) Si tulikuambia (didn't we warn you?)
Mutua said he has been disturbed by these threats and believes that Ruto is capable of carrying out the threat to his life and general welfare.
Lifestyle audit
"I called for a lifestyle audit and maybe it bothers them. I said the corrupt are not fit to be in office," Mutua continued.
But in a swift rejoinder, Murkomen dismissed Mutua's claims. "Having failed spectacularly as a leader he turned himself into a Joseph Goebbels of his county government," he said in a tweet.
Duale has also accused the governor of seeking cheap publicity through unfounded claims: "Mutua is at it again seeking attention with the most fictitious allegations that can only fit in his failed Cobra Squad TV show. The truth is, attention seekers are looking for validation. You can't use our names to increase your dwindling political shares in the village. We play a different league."