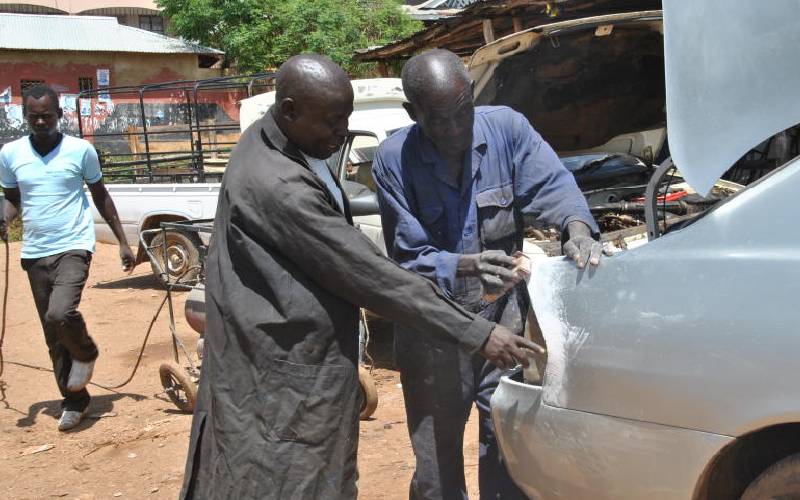 Workers who earned Sh29,999 and below over the last ten years have dramatically reduced as the economy reconfigures itself, locking out millions of semi and non-skilled labourers.
The changes in the economy are so radical that what for long has been perceived as entry-level jobs are fast fading away from the corporate scene.
Moreover, with a rise in the cost of living, workers have been forced to agitate for better wages, a situation that has seen a series of Collective Bargaining Agreements (CBAs) being signed, especially in the education sector.
However, even where some low cadre of workers have successfully pushed for better terms or have been moved up the income scale, they have not been replaced, a clear indicator that their positions have been rendered useless.
As a result, an analysis of data by the Kenya National Bureau of Statistics (KNBS) show that between 2011 and 2018, the number of employees taking home between Sh10,000 and Sh30,000 dropped by a massive half a million even as Kenyans pocketing Sh30,000 and above shot up, in what seems to be a strong indicator of an economy that is rewarding white-collar and pink-collar jobs.
Read More
Economy's mainstay
An analysis of official data shows that agriculture, the economy's mainstay, was disrupted the most with the number of workers employed in farms and taking home Sh29,999 and below declining by a staggering 228,486. The review largely focused on workers who traditionally held permanent jobs.
While the Statistical Abstract, 2019 did not give reasons for the decline of jobs in the sector, the same report showed that the number of Kenyans engaged in such activities as growing of tea between 2014 and 2018 dropped.
There has been some mechanisation in tea picking after some multi-national tea firms introduced harvesting machines in 2016, placing the livelihoods of thousands of tea-pickers on the line.
Tea growing employs more than 83,000 people. The machines collect 20 times more tea per day than manual pickers. This saw tea pickers through the Central Organisation of Trade Unions (Cotu) lobby to have the machines withdrawn.
The latest data from the KNBS also confirms fears from some analysts that the economy has been experiencing some jobless growth as it gets restructured.
Another sector that lost jobs within this income bracket includes education where 203,000 jobs were lost.
The other sector that shed a lot of jobs is the manufacturing sector, partly because some companies have opted to import finished goods rather than manufacture goods locally, citing the high cost of production.
Manufacturing workers earning Sh29,999 declined by 46,560 during this period.
Since 2011, no one in the financial and insurance sector was taking home under Sh15,000. However, with increased automation, clerical officers and tellers earning between Sh20,000 and Sh25,000 reduced by almost 2,000.
Over a third of clerical and secretarial staff in the banking sector, new Central Bank of Kenya (CBK) data shows, have been sent home in the last three years as the technological maelstrom continues to wreak havoc in the financial space.
CBK in its latest Banking Supervision Report says in 2015, 16,503 people were working as clerical officers and secretaries in various commercial banks in the country, but this number reduced dramatically to 12,431 as of the end of last year.
"The decrease in clerical and secretarial staff could be as a result of continued automation of banking procedures and processes," says the regulator.
However, the drop was offset by an increase in those taking home Sh30,000 and above leading to a net increase of 632,438 in the same period, as people moved up into high-valued jobs.
The biggest beneficiaries were people in education where workers earning between Sh40,000 and over Sh100,000 in a month have increased tremendously by 586,633.
In fact, education has the most people earning double-digits in the country.
The sharp increase in earning by those in education, over 192,000, was also due to the many collective bargaining agreements (CBAs) which saw the number. Majority of the jobs were created in the income bracket of Sh30,000 and Sh50,000.
Public administration and defence also had a boon, creating additional 123,489 jobs during the period under review.
Those engaged in public administration and earning between Sh30,000 and 50,000 increased by over 175,000. The only sector that did not shed jobs in any salary bracket was in administrative and support service activities which increased by 160 per cent.
Jobs under the arts and entertainment registered the sharpest drop at 85 per cent from 51,429 to 7,242. Indeed, arts and entertainment, mining and quarrying and other activities were the only sectors that registered a lower number of people earning over Sh100,000 per month.
Salary category
Even as this salary category recorded the second-highest growth in nine years from 2009, growing by 156 per cent behind those who earned Sh50,000 and Sh100,000. Surprisingly, under the category of professional, scientific and technical activities, people earning Sh100,000 in a month and above declined by 2.8 per cent over this period.
A 2018 report by McKinsey which looked at over 50 countries, including Kenya, found that a lot of work activities are under threat of automation.
"Activities most susceptible to automation include physical ones in predictable environments, such as operating machinery and preparing fast food," read part of the report.
"Collecting and processing data are two other categories of activities that can increasingly be done better and faster with machines," added the report. The consultancy noted that automation will have a lesser effect on jobs that involve managing people, applying expertise, and those involving social interactions.
"Jobs in unpredictable environments — occupations such as gardeners, plumbers, or providers of child- and elder-care will also generally see less automation by 2030," said McKinsey.
Another report by the World Bank showed that Kenya is suffering from misallocation of talent with highly skilled people stuck in the unproductive informal sector or subsistence farming.