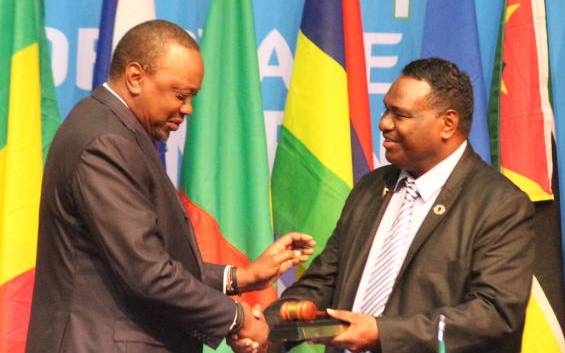 President Uhuru Kenyatta has pledged to protect the African, Caribbean, and Pacific (ACP) group of nations from unfair trade practices. Speaking yesterday as he took over the group's leadership, the president said he will strongly defend existing multilateral trading systems as part of his mandate in pushing the vision and goals of the 79 countries. "As I humbly take over as the President of the ACP Group, I pledge to ensure that the vision and goals of the group are placed at the centre of all our international engagements and that the ACP Group becomes a beacon of hope for multilateralism," said Uhuru. He took over the chairmanship from James Marape, Prime Minister of Papua New Guinea, which hosted the 8th ACP Summit in 2016.
SEE ALSO: New revenue sharing formula clearly unfair
Uhuru said the member states should use their combined population of one billion to push for their agenda in the international trade agreement as well as intra-trade among the states. "With a combined population of over 1.1 billion people and a Gross Domestic Product (GDP) of about $1.5 trillion, the ACP Group presents enormous opportunities for intra-ACP trade and investments, people-to-people relations, and the celebration of the cultural diversity among the member states," said Uhuru when he officially launched the 9th summit. Economic strength He added: "Going forward, we should use this numerical and economic strength to exert greater influence on the international stage for the purposes of achieving greater shared prosperity for our people." The president said most of the member states continue to trade in primary extractives, fisheries and agricultural commodities with little value addition.
SEE ALSO: Delink handshake from county funds politics
This, he said, exposes economies of the states to product-price volatility. Uhuru said under his leadership, Kenya will seek to promote and protect the interests of the group at the regional, continental and international levels. European Union Commissioner Jutta Urpilaienen said it was not enough to send messages of condolence whenever people lose their lives as a result of floods and landslides. "We cannot just sit and wait for tragedy to hit us. Condolences are not enough," said Urpilaienen. Bardados Prime Minister Mia Mottley said the group of nations must realign its vision to address the current challenges. Ghanaian President Nana Akufo-Addo, Yoweri Museveni (Uganda), Paul Kagame (Rwanda), Hage Geingob (Namibia) and Prime Minister Andrew Holness (Jamaica) attended the summit.
SEE ALSO: DCI grills Baringo politician for badmouthing President Uhuru