Sonko's shrewd tactics, now his worst nightmare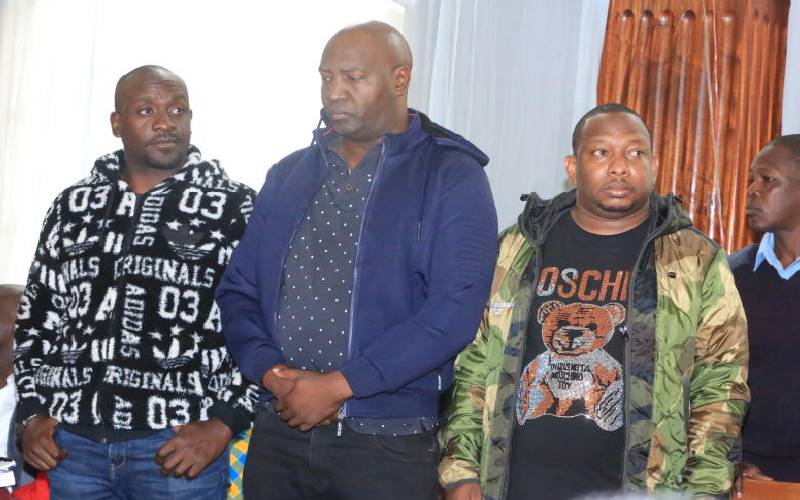 For a man who rode a populist wave to power, used strong arm tactics to maintain an iron grip while displaying opulence to showcase his office of governor, Mike Sonko seemed to have played the script well.
The Nairobi governor gained notoriety for publicly revealing private conversations to embarrass rivals, gestapo-style snooping to enforce a code of fear to discourage critics, and at one point put a conversation with the president on speaker phone as a demonstration of connections to high office to thrill a crowd as he stopped a demolition.
And for two years, Sonko has run the county without a deputy with critics suggesting it was a strategy to discourage his ouster but that vacuum could haunt him given his current predicament.
A Member of the County Assembly claimed Sonko dithered to name a deputy governor as insurance against a plot to impeach him because of the legal crisis it would create as the Constitution contemplates in such an eventuality the deputy takes over for the remainder of the term.
But with yesterday's prosecution of the governor over multiple counts of graft following day-long proceedings that turned his trial into a national spectacle, coming days after his dramatic arrest, Sonko, who was remanded in Industrial Area prison until Wednesday when his application for bail will be decided, may have unwittingly played into the hands of his rivals.
Should he be slapped with harsh bail conditions barring him from office, his efforts to preserve a vacuum in the office of Deputy Governor could turn into his worst nightmare with possible impeachment as rivals could resort to the extreme option to force a vacancy in the office of Governor in order to precipitate an election to unlock the leadership crisis expected to engulf the capital city.
Man without deputy
Unlike the case with Kiambu governor Ferdinand Waititu and Samburu's Moses Lenolkulal, where a substantial deputy ensured continuity, Sonko's case will place the city on auto pilot, presenting a powerful spring board for his enemies to set in motion a plot that would lead to an election.
Its perhaps the apprehension that the county could slide into an abyss of the unknown should the court slap Sonko with harsh bail terms that the Council of Governors has requested a meeting with President Uhuru Kenyatta to address the matter.
Some have proposed a legal solution to the vacuum through an amendment to the County Governments Act to allow a member of his Cabinet to act as governor, but his rivals would not hesitate to capitalise on the crisis to fix him politically.
To succeed in the plot against the governor who is facing eight charges relating to loss of Sh357 million from county coffers, Sonko's opponents must trigger a vacancy as contemplated in Article 182 of the constitution.
An impeachment motion, supported by the Senate would allow Speaker Beatrice Elachi to act for 60 days, leading to a by –election.
This is the risk facing Sonko, a man who for almost two years failed to appoint his principal assistant, befuddling his critics, who had no recourse as the law does not compel a governor to appoint one.
Polycarp Igathe resigned from the position in January 2018, barely six months after taking office following differences with the flamboyant governor.
He cited 'trust' in his resignation letter.
"I regret I have failed to earn the trust of the Governor to enable me to drive Admin & Management of the county," he wrote.
From that point on, Sonko made it his singular mission to keep the vacuum alive for as long as possible.
At one point, Sonko told Nairobi residents to choose from a lineup of several women to take up the position, a maneuver that set social media abuzz for days.
Those he shortlisted were Starehe MP Margaret Wanjiru, gender activist and insurance executive Agnes Kagure as well as lawyers Karen Nyamu and Jane Weru.
In case of impeachment, Sonko will face off with a group of MCAs known for shifting alliances in high-stakes scenarios.
The governor has already fallen out with a section of the ward representatives led by former Majority leader, Abdi Guyo.
He and speaker Elachi did not see eye to eye until recently when political interests brought them together.
Uhuru's options
To avoid the impeachment route, President Uhuru Kenyatta could be asked to suspend the county. Article 192 allows the president to suspend a devolved unit in an emergency arising out of internal conflict or war; or 'in any other exceptional circumstances.'
This would, however, require commission of inquiry to investigate allegations against the county government and a nod by the Senate. Constitutional lawyer, Kibe Mungai, however, argued that the easiest route to deal with the possible crisis is to appoint a member of the executive to act as governor.
"The leadership crisis has been made worse by the fact that there is no deputy governor. If we get to the Kiambu situation, what could be done quickest is to emend the county government Act to enable any member of the county executive committee to act as governor," said Kibe.
Lawyer Nelson Havi also agreed that there would be a crisis 'should the court create a bigger problem than we already experienced.'
"Consider a situation where the Cabinet is to meet in absence of president, who will preside? That is the conundrum that is likely to face the cabinet of Nairobi County," argued Havi.
Interviews with current MCAs painted a picture of a man scared of the unknown who felt comfortable working without the deputy governor.
Embakasi MCA Michael Ogada said the governor resisted numerous attempts to have him appoint a deputy.
"We urged the governor to appoint a deputy and he refused maybe because he had the fear of the unknown. He thought that if he had a deputy governor then he would be 'pushed' a bit faster but he failed to understand that pushing is pushing whether it comes early or late," said Ogada, suggesting that the governor was afraid of being replaced by his deputy in case of any eventuality.
South B MCA, Waithera Chege said that trust issues have made it difficult for the governor to appoint a deputy.
"For you to work with the governor you really must understand him. You must understand his way of working with people, his likes and his dislikes. If you don't do this you will not be best suited to work with him," she said.
ODM party chief whip at the Nairobi County Assembly, Peter Imwatok said the county was now caught up in a unique situation.
"The ball now rests with the president, the legal experts and if it goes to the worst, the people can move to the Supreme Court to seek another legal interpretation on this unique situation," stated Imwatok