Nairobi Governor Sonko to spend two more nights in police cells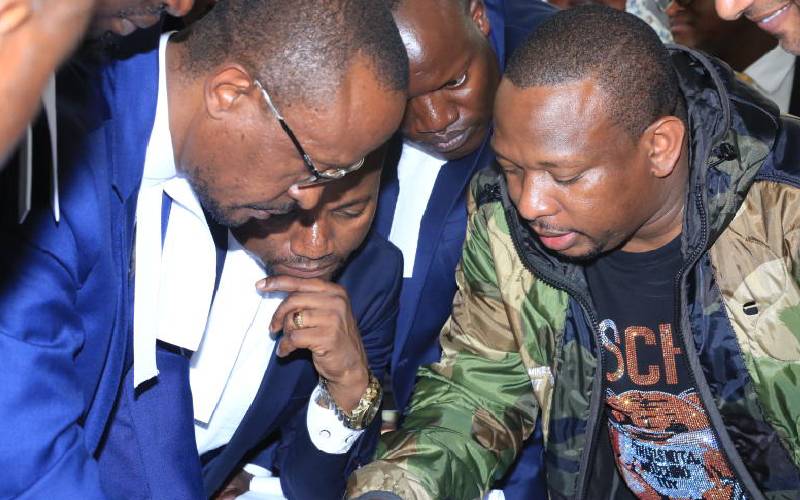 Nairobi Governor Mike Sonko and his co- accused will have to remain in police custody for two more nights pending the ruling on his bail application in the graft case.
Sonko lawyers had applied for bail application, arguing that the governor was sick and needed medical attention, but Prosecution team opposed the application saying the governor was a flight risk having escaped from jail before.
While setting the ruling date to Wednesday at 11am, the magistrate ruled that the governor be treated in the presence of the prisons' authority.
Sonko and his co-accused comprising county officers and directors of companies denied multiple corruption and economic crimes charges before Chief Magistrate Douglas Ogoti at the Milimani Law Courts in Nairobi on Monday.
Prosecution team led by Gitonga Riungu and James Kihara had objected Sonko's release on bail, citing the 1998 incident in which he was convicted for failing to appear before a Mombasa court three times in his previous cases.
The prosecution referred to the instance where the Shimo La Tewa Commissioner of Prisons advanced claims that Sonko escaped from lawful custody after going to Coast General Hospital for treatment.
But Sonko's defence team rebutted arguing that his alleged escape from Shimo La Tewa is a malicious claim aimed at mudslinging him.
The accused face nine charges including conspiracy to commit offence of corruption, willful failure to comply with procurement laws, conflict of interest, abuse of office, unlawful acquisition of public property, deceiving principal, money laundering and acquisition of proceeds of crime.
In the soup are also county officials who have been charged with benefitting from the irregular procurement and payments. They are County Secretary Peter Mbugua; Head of Supply Chain Management Patrick Mwangangi; Negotiation, Tender Opening and Evaluation Committee members Edwin Kariuki, Lawrence Mwangi, Preston Mwandiki and Clerical Officers Wambua Ndaka and Andrew Nyasiego.
While setting the ruling date to Wednesday at 11am, the magistrate ruled that the governor be treated in the presence of the prisons' authority.
Sonko's lead lawyer Cecil Miller introduced a phalanx of his lawyer colleagues ahead of the plea taking.
They included Mutula Kilonzo Jr, Harrisson Kinyanjui, Daniel Maanzo, Kipchumba Murkomen, Nelson Havi, George Kithi, Kwanga Mboya, Osundwa Micheal, Alphonce Mutinda, and Phillip Kaindu among many others.
The governor alongside the directors of Web Tribe Ltd is accused of corruption and conspiracy to defraud the county government of Sh24 million.
The charge sheet tabulates other fifteen charges of conflict of interest involving Governor Sonko and Web Tribe Ltd, ROG Security Ltd associated with Antony Otieno Ombok among other companies and their directors.
The governor is largely accused of receiving Sh1 million from Yira Enterprises in each of the several deals that involved hiring heavy equipment from the county government.
Under the charge of conflict of interest, Sonko is accused of acquiring Sh1 million from Fredrick Odhiambo of Yiro Enterprises on multiple occasions which are proceeds of crime.
Sonko also faces charges of money laundering and receiving proceeds of crime from Hardi Enterprises Ltd and Toddy Civil Engineering Ltd associated with Antony Mwaura Ng'ang'a and Rose Njeri Ng'ang'a.
On Monday, another charge sheet emerged in which the governor was accused of committing three offences during his arrest in Voi on Friday. They include assault of police officer, willfully resisting arrest and using abusive language towards police officers.
He protested his arrest yesterday and blamed his woes on politics.
"I am convinced that my arrest was politically-schemed and designed to humiliate and embarrass me," read his statement.
"There was no point for the deployment of a police helicopter, more than 25 police cars, and 200 police officers to locate and arrest me while we all know on that on the same material day there was terror attack in Wajir County where the chopper with this kind of reinforcement, deployment and operation was needed."
He denied claims that he was trying to escape to Tanzania on Friday when he was arrested in Voi.
The Nairobi County crisis has compelled the Council of Governors (CoG) to urgently ask for a meeting with President Uhuru Kenyatta following the arrest of Governor Mike Sonko.
It is not clear when Uhuru will honour the request.
The President on Sunday said no leader would use their position to escape prosecution. He added that leaders found guilty of corruption should carry their own cross.
He was speaking at St Francis of Asisi Catholic Church in Ruiru town during a fundraiser.
In a statement on Sunday, CoG, the body that brings together all the 47 county chiefs, said it has been monitoring and consulting widely.
"We are, however, aware of the uniqueness of the County Government and therefore shall reach out to President Uhuru Kenyatta to convene an emergency Summit to address the evolving situation," the council chair Governor Wycliffe Oparanya said.
What next for Nairobi?
Without a deputy governor, Nairobi County has found itself in a dicey situation but lawyer Duncan Okatch argues that there is no cause for alarm.
"The seat of the governor has not fallen vacant, therefore, we are not in the situation where the law indicates that the Speaker act for 60 days," he said, in an interview with Standard Digital.
The Constitution states that the office of the governor shall become vacant if the holder of the office dies, resigns, ceases to be eligible to be elected county governor; is convicted of an offence punishable by imprisonment for at least twelve months or is removed from office under this Constitution.
The law also states that in the event a vacancy occurs in the office of county governor and that of deputy county governor, or if the deputy county governor is unable to act, the speaker of the county assembly shall act as county governor, but only for sixty (60) days.
Speaking to Standard Digital on phone, lawyers cited the High Court ruling that barred Kiambu Governor Ferdinand Waititu and his Samburu counterpart Moses Lenolkulal from accessing their offices after they were charged with corruption.
Just like in the case of Waititu and Lenolkulal, Sonko would be barred from discharging his duties hence the Speaker will come in.