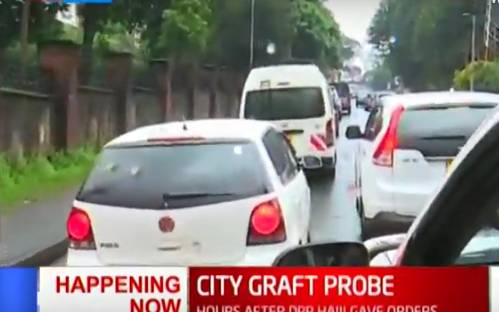 Nairobi Governor Mike Mbuvi Sonko will be arraigned at Milimani law courts over corruption, abuse of office and money laundering.
A convoy of cars snaked their way from the Ethics and Anti-corruption Commission (EACC) centre and traversed the Nairobi CBD to Milimani law courts where he is expected to be charged today.
Security at the Milimani law courts has been beefed as heavily armed police officers patrol the area. Roads leading to the courts closed forcing those heading to the courts to walk.
This follows his dramatic arrest on Friday last week in Voi, after which he was forcefully flown to Nairobi in the presence of a group of police officers.
The Nairobi County boss spent his weekend in police custody after his legal team led by lawyer Cecil Miller failed to get anticipatory bail preventing his arrest.
Beside these are media reports that he could be taken back to Voi law court to answer charges of assault.
This follows claims that he assaulted Coast regional police commander Rashid Yakubu on the day of his arrest.
Charges
The accused face nine charges including conspiracy to commit offence of corruption, willful failure to comply with procurement laws, conflict of interest, abuse of office, unlawful acquisition of public property, deceiving principal, money laundering and acquisition of proceeds of crime.
The other charges stem from Sonko's dramatic arrest in Voi on Friday. In the first count, the governor is to be charged with 'unlawfully assaulting The Regional Police Commander Mr Rashid Yakubu, by kicking him on the thigh, in the due execution of his duties on December 6.'
The second count reads that he 'willfully resisted arrest by Mr Rashid Yakubu A.I.G the Regional Police Commander Coast by violently refusing to be handcuffed and to board a police chopper in the due execution of his duties.'
On the third count, he is accused of 'using abusive words namely " shenzi nyie, taka taka, ondoka hapa" meaning; you stupid rubbish move away, with intent to provoke a breach of the peace.'
Last week during a press conference in Nairobi, DPP Noordin Haji announced that the governor would be questioned over the loss of Sh357 millions of county funds.
Haji said his office had enough evidence to charge the governor.
He ordered police to probe attempts to hinder the investigation.
Officers from Nairobi County Government who facilitated or benefitted from the irregular procurement and payments were listed as County Secretary Peter Mbugua; Head Supply Chain Management Patrick Mwangangi; Negotiation, Tender Opening and Evaluation Committee members Edwin Kariuki, Lawrence Mwangi, Preston Mwandiki and Clerical Officers Wambua Ndaka and Andrew Nyasiego.
It came a few weeks after Sonko failed to stop the Ethics and Anti-Corruption Commission (EACC) from investigating him over corruption.
The agency is also investigating the governor over alleged past criminal records.
Sonko wanted the court to temporarily restrain the commission from prosecuting him, but Justice James Makau declined to issue the order.
Instead, Justice Makau transferred the case to the anti-corruption division of the High Court.
Haji said Sonko would also be questioned over unlawful acquisition of property and money laundering, among other economic crimes.
The DPP admitted that investigation into the case had been challenging because of the accused's repeated attempts to obstruct the probe.
On November 6 this year, Sonko appeared before the anti-graft agency in a day punctuated by confrontations between police and his supporters.
Mr Sonko was summoned to the Ethics and Anti-Corruption (EACC) offices at Integrity Centre to shed more light on a self-declaration form submitted to EACC in 2017 while vying for governorship.
Through a letter dated October 28, EACC claimed the county chief lied about never being convicted of any crime in his self-declaration form.
Sonko is claimed to have been charged in Mombasa law courts in 1997 for making a document without authority contrary to section 357(a) of the Penal Code.
In March 1998 the investigators' documents showed that the governor was convicted and fined Sh200,000 or in default serve six months in prison. He was committed to Shimo La Tewa Maximum prison to serve his custodial sentence having failed to raise the fine, according to the documents.
During the press conference, Haji criticised the Senate for allowing Kiambu Governor Ferdinand Waititu to run a parallel office while his case was still in court.
The DPP warned Waititu and his Samburu counterpart Moses Lenolkulal against violating their bail terms.
"We shall take action and arrest them if they do," Haji added.
Senate Speaker Kithure Kindiki on Wednesday permitted Waititu and Lenolkulal to conduct official duties as governors but not access their offices.
Waititu appealed the High Court ruling that barred him from accessing the office. The case is yet to be determined.
Additional reporting Jael Mboga