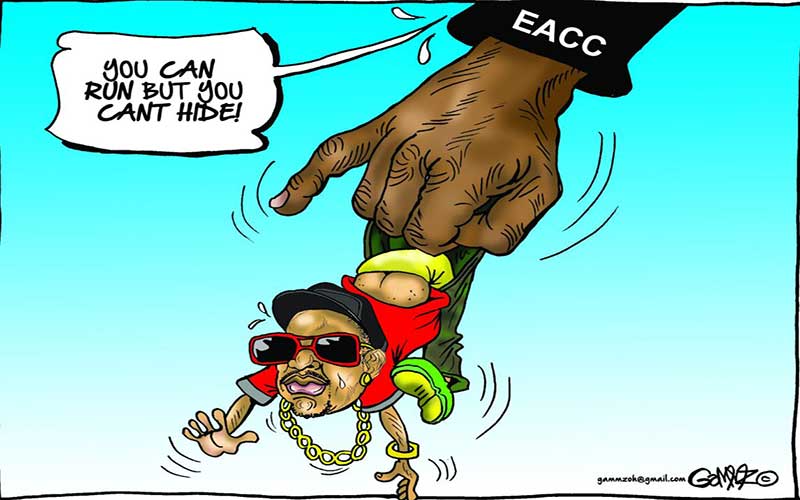 Detained Nairobi Governor Mike Sonko was on Friday night shuffled between police stations before being huddled in a lone cell on the outskirts of the city.
As other inmates were transferred to neighbouring stations, police headquarters upped the stakes against Sonko, announcing that they would be pressing additional charges relating to his dramatic arrest in Voi.
"We would also wish to inform the public that we have reports that a group of individuals is mobilising to cause civil unrest. The general public is therefore warned that persons intending to assemble, demonstrate or picket must do so with strict adherence to the law," said Police Spokesman Charles Owino.
Locating the governor yesterday proved hard as police maintained a tight grip on information. Initial plans were to lock up Sonko at the Jomo Kenyatta International Airport (JKIA) police cells or Wilson Airport police station but his session with investigators at Integrity House took longer than anticipated. He was then officially booked by the Integrity Centre police.
Bail application
Following intelligence reports that some of his supporters were planning to hold demonstrations, he was secretly moved out of Ethics and Anti-Corruption Commission (EACC) cells at 8pm, according to sources familiar with events of the night.
Kilimani Police Station was then sidestepped even as his people were made to believe he was headed to Kamukunji Police Station. He ended up in the far-flung Lari Police Station in Kiambu.
Earlier in the day, his lawyer Cecil Miller failed to secure his release from police custody. Mr Miller also said his client's rights had been violated.
Strict instructions were also issued that the governor should not have access to his mobile phones or visitors.
Yesterday, lawyer Harrison Kinyanjui claimed police had denied Sonko access to medication. In a statement issued by the governor's press spokesman, Elkana Jacob, the lawyer said the governor had urged his supporters to drop any plans to have thousands of people accompany him to court tomorrow.
"He is courageous and confident and has warned against any drama. We are steadfast and on top of things. So let's wait," said Kinyanjui.
By last evening, Sonko was still at the Lari police cells alone after other inmates were transferred to nearby police stations.
A police source told Sunday Standard that the idea to lock up Sonko out of town was to make it hard for his supporters to storm police stations as indicated by intelligence reports.
According to sources, the last meeting Sonko had with his family was at the EACC offices where he was allowed to have his supper.
Yesterday, Mwatate police boss Monica Kimani said Sonko hurled unprintable insults against Coast Regional Police Commander Rashid Yakub. She also said an investigation has been launched to establish accountability for the fracas at the Voi airstrip.
Ms Kimani said the officers effecting the arrest were attacked by the governor's aides at the airstrip.
"The police officers were struggling to arrest the governor who refused to board the police helicopter at the airstrip when they were injured. They were attacked by the governor's violent bouncers," she said.
She said although Sonko did not resist arrest or obstruct police when he was nabbed at Ndara police roadblock, he turned violent when he reached the airstrip and refused to board the helicopter while insulting police.
She said police had a difficult time arresting the governor as he used different vehicles during his escape attempt.
"The insults were demeaning and we did not expect the governor to use such words on the regional police commander," said Kimani.
Kimani's account tends to confirm Yakub's apparent agitated mood at the airstrip.
A video circulating on the internet from the airstrip drama shows Sonko sandwiched among policemen.
He is seen flailing, gesticulating and throwing punches at policemen, including Yakub.
The arrest drama elicited mixed reactions among leaders and Kenyans.
Elgeyo Marakwet Senator Kipchumba Murkomen tweeted in defence of Sonko, saying he was targeted for being on the wrong political side.
"Governor Sonko enjoys his constitutional right to be presumed innocent till proved guilty. He is my friend and I wish him well as he proves his innocence. You don't run away from friends. I also know many governors; Mombasa, Machakos, Siaya and others who are protected because they are politically correct," he tweeted on Friday. Yesterday, former Kibwezi MP Kalembe Ndile and Chama Cha Uzalendo (CCU) Organising Secretary Davis Musau said the manner in which Sonko was handled leaves a lot to be desired.
"Sonko did not deserve the kind of embarrassment and ridicule by the arms of the government as there is the right way to arrest a suspect," said Mr Musau.
Under the #GovSonkoWitchhunt on Twitter, Sonko's supporters and critics expressed mixed reactions over the arrest.
Some claimed the governor was being fought for containing land grabbing in the city. "So all police officers were searching for Mike Sonko and left terrorists to kill at peace in Wajir? Very unfortunate." tweeted @Marigiri.
Others however said Sonko deserved the harsh treatment.
"#GovSonkoWitchhunt. Foolish Kenyans promoting this hashtag with ethnic xenophobia and claims Sonko fights cartels," tweeted @Anonymous Kenya.