Kamata Friday: Sonko to spend weekend in custody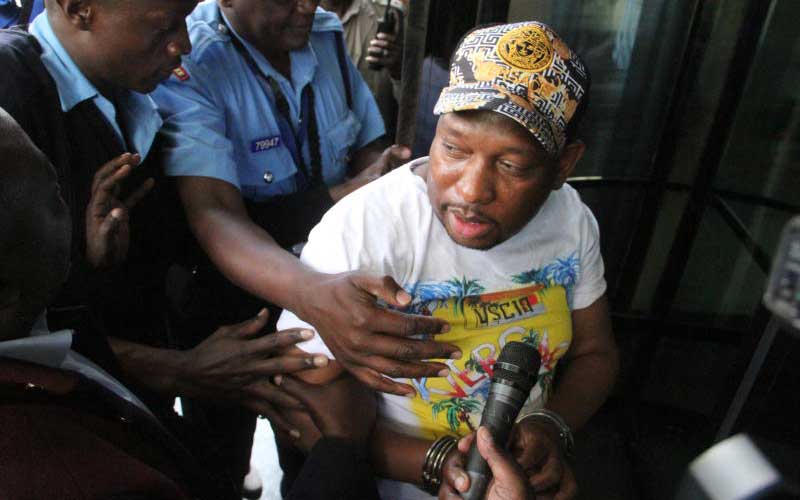 The flamboyant Nairobi County Governor Mike Sonko will spend the next 61 hours in police cells after the High Court denied him anticipatory bail.
Sonko is being held over the loss of Sh357 million. He is facing charges of conspiracy to commit economic crime, willful failure to comply with the law and conflict of interest.
Anti-Corruption judge Justice John Onyiengo denied the application to release the city boss on bail, ruling that his arrest was a legal process he couldn't interfere with.
Justice Onyiengo subsequently ordered the Director of Public Prosecution (DPP) to reply to the claim Sonko's rights were violated during his arrest by Monday 8am.
The bail application will then heard by 9am.
Governor Mike Sonko, though his lawyer Cecil Miller, had sought to stop the prosecution until his case accusing the Ethics and Anti-Corruption Commission (EACC) of witch-hunt is heard and determined.
Sonko will be charged alongside County Secretary Peter Mbugua, Head Supply Chain Management Patrick Mwangangi, Negotiation, Tender Opening and Evaluation Committee members Edwin Kariuki, Lawrence Mwangi, Preston Mwandiki and Clerical Officers Wambua Ndaka and Andrew Nyasiego.
High drama
DPP Noordin Haji ordered Sonko's arrest early Friday morning, saying there is enough evidence to charge him.
He was arrested mid-Friday at Ndara roadblock while heading to Mombasa from Nairobi in a bid to escape arrest.
The governor was airlifted from Voi to Nairobi, where he was taken to the Ethics and Anti-Corruption Commission headquarters.
But the exercise to airlift him from Ikanga Airstrip was not free of drama. In the melee involving more than 10 officers, Sonko is seen to resist boarding the awaiting police chopper.
The first-time county boss, in a statement sent to newsrooms, denied that he was running from the law.
He laughed off the claims saying he was on his way to Mombasa to attend a workshop.
"Why would l run away? To where and to do what? I am a Kenyan who is always on the move doing what's good for the people," he said.
He told Nairobi residents to remain calm, expressing hope that soon the truth will come out and he will be freed.
"I want to confidently state from the onset that I am more than ready for the lawful course that will help us know the truth."