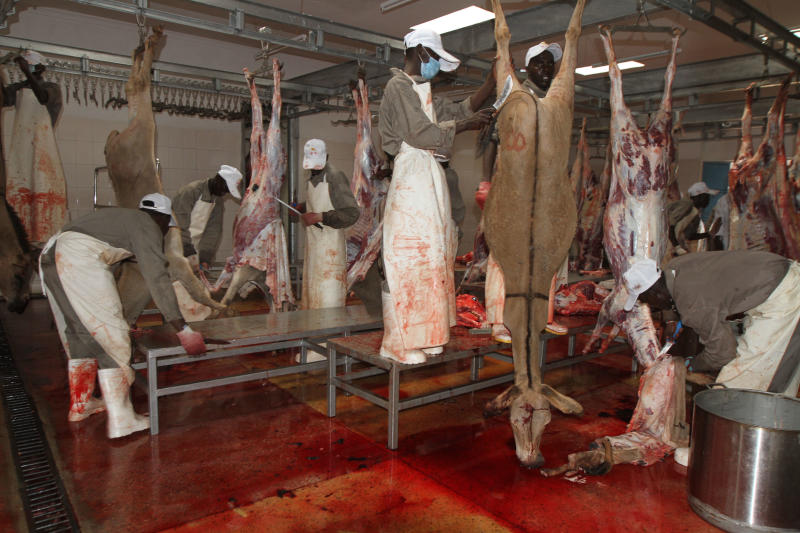 Kenya has been flagged as regional hot spot for trading on cross-border smuggled donkeys as local population dwindles.
A regional meet bringing together over 15 countries identified Kenya as the largest exporter of donkey products as Nigeria discusses a Bill to ban the slaughter of the animal and related export trade.
The two countries have recently been the largest exporters of donkey products to meet China's demand of 4.8 million donkey skins annually for manufacture of ejiao, a Chinese traditional medicine.
The dwindling donkey population is however becoming a crisis, with global attention drawn to Kenya and the soaring unregulated slaughter and cross-border thefts.
To satisfy the growing demand, donkeys keeping the four Kenyan slaughterhouses running are reportedly smuggled in from Ethiopia, Somalia, Sudan, South Sudan, Uganda and Tanzania.
Read More
"There is a crisis in Kenya after Nigeria came up with a Bill to ban donkey slaughter and export. To satisfy the growing demand with the dwindling numbers, evidence of smuggled donkeys from the neighbouring countries points to Kenya," says Petra Ingram, CEO of Brooke, an equine international welfare organisation.
Ingram says countries such as Botswana, Ethiopia, Mali, Senegal, Niger, South Sudan, Somalia and Uganda have banned trade in donkey products.
Countries in the regional summit, including Ethiopia, Tanzania, Uganda and South Sudan, raised the alarm on their stolen donkeys finding their way into Kenyan slaughterhouses, with Ethiopia recording an estimated 3,000 donkeys being stolen weekly.
High demand
According to the Donkey Sanctuary, an international animal welfare and rescue charity, the global donkey population is under pressure from high demand.
The high demand for donkey skins coupled with the reducing herd of donkeys in China has led to a rise in export market around the world to keep the ejiao industry running.
"With populations in some source countries collapsing, and an increasing number of countries taking a stand against the trade, the ejiao industry faces a challenge. Its supply from the international trade is finite and the number of skins required by the industry is simply not sustainable," says Simon Pope, UK Donkey Sanctuary campaigns manager.
The Intergovernmental Authority on Development (Igad) however said the lack of a traceability system in the region has made the fight against cross-border donkey smuggling difficult.
An official from Igad, Wamalwa Kinyanjui, said there was a need for policies to trace donkeys as a way of cracking down on increasing theft.
"Donkey trade is a total craze and Igad needs a lot of regional support to come up with policies for easy identification of stolen donkeys. The pressure is mainly in Kenya and Ethiopia, which loses a lot of donkeys being stolen and smuggled in to the former," says Dr Kinyanjui.
"Kenya, on the other hand, is the hot spot that squarely takes the blame on smuggled donkeys. Traceability system has been tried but it failed."
He says a preferred electronic system for tracing stolen animals is expensive.
Stolen donkeys
Kenya Anti-Rustling Programme CEO James Kendagor says in the slaughterhouses, the stolen donkeys were more than the legally sourced ones. He says there are several instances where smuggled donkeys have been intercepted in Baringo, Tana River and Garrisa counties.
"The government did not involve the public when they legalised donkeys for export but the statistics are clear and petitions to county governments have been heard," Dr Kendagor says.
The dwindling donkey population, he says, is worrying and there are plans to start breeding in 2022 in an initiative dubbed Livestock Boarding School, targeting livestock in arid areas of Tiaty.
Statistics show that the four abattoirs in the country slaughter almost 1,200 donkeys a day against the licensed capacity of 900.
Between 2016 and 2018, 16,544 tonnes of donkey meat and skin products were exported.