Kenya, Qatar sign cross-border agreement on graft purge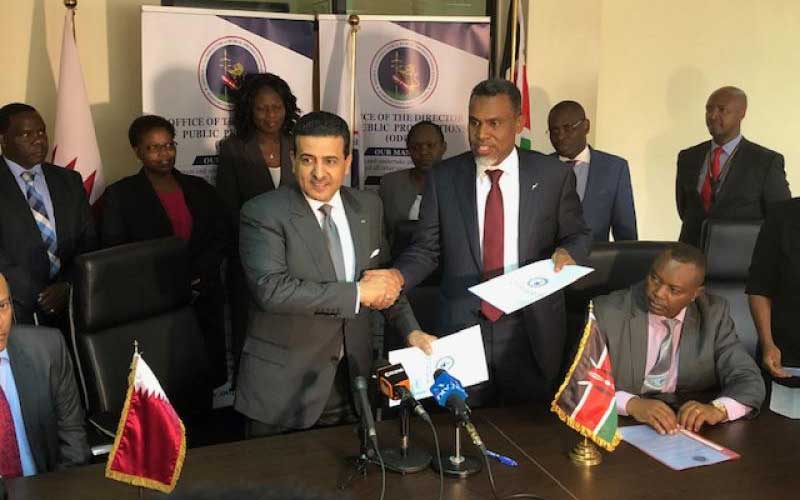 Kenya and Qatar have signed a deal to strengthen the fight against cross-border crime and corruption.
The Director of Public Prosecutions Noordin Haji yesterday signed the agreement with the Qatar Attorney General and Chairman of Rule of Law and Anti-Corruption Center (ROLACC) Dr Ali Bin Fetais Al Marri.
Haji said his office is increasing international cooperation with non-traditional partners necessary in fighting transnational crimes in view of the increasingly interconnected, independent world.
"The cooperation will stimulate and enhance the collaboration between our competent authorities and improve the coordination of their investigations and prosecutions, in relation to serious organised cross-border crime and corruption," Haji said.
He said the visit was intended to improve relations between counterparts and create new areas for synergies particularly in the area of mutual legal assistance, anti-corruption, transnational organised crime and capacity building for prosecutors.
The meeting was also attended by the Ethics and Anti-Corruption (EACC) CEO Twalib Mbarak, the Director of Criminal Investigations George Kinoti among other officials.
The State of Qatar, in partnership with the United Nations Institute for Training and Research (UNITAR) hosts one of the best anti-corruption training institutes in the world, the ROLACC in Doha.
The Public Prosecutions office in Qatar has been recognized and awarded for developing the world's best document tracking system in the world, which leads in terms of output and volume
Haji said the cooperation would help Kenya target organised crime groups that are active transnationally and cause a major threat to security of our countries.
He added Kenya stands to benefit from the possibility of evidence and information sharing as it will enhance its operational capacity.
"This agreement will also foster prosecution and strategic cooperation as it will unlock the possibility to swiftly and safely exchange information and evidence between the two nations," he said.
The two countries will boost cooperation in capacity building activities in aspects like mentorship, exchange programmes, and special projects, technical assistance to promote and facilitate capacity building, the sharing of best practices on policies and procedures, and the exchange of experts, information and technology.
It will also work to provide the appropriate financial and in kind resources for cooperation and capacity building activities conducted under it, subject to availability of resources and the comparative capabilities that are envisage to achieve its goals
Dr Al Marri, who has been Qatar's AG since 2002 is a member of the Peace Advisory Board of the United Nations Institute for Training and Research (UNITAR) in Geneva.
He is also a Special Attorney for the United Nations Office on Drugs and Crime (UNODC) and also the president of the International Association of Anti-Corruption Authorities (IAACA)
The Advisory Board provides technical and critical analysis of the peacekeeping activities around the world to ensure that the quality standards adopted in compliance with the UNITAR mandate and UN guidelines are respected and well-integrated.