Chinese arrested with ivory bangle at JKIA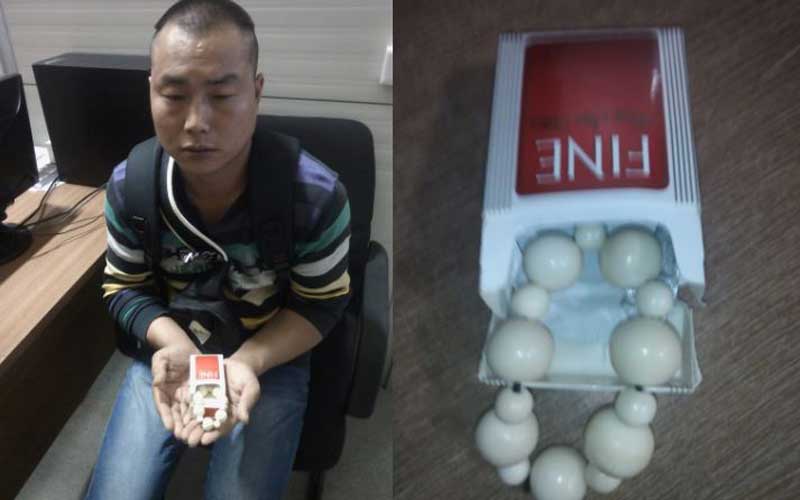 A Chinese national was Tuesday night arrested at the Jomo Kenyatta International Airport while in possession of one ivory bangle beaded and concealed in a cigarette packet that weighed 60 grams.
The man identified as Feng Zaichao (pictured) is also said to have tried to bribe Kenya Wildlife Service officials with 200 Yuan after his arrest. The money was withheld as exhibit.
Police say he was on transit from Bangui by KQ255 to China by Qatar airways 896 to China via JKIA.
Possession of such animal trophies is prohibited in Kenya. Dozens of foreigners are frequently arrested at the airport with the trophies.
Recent trends show that the far eastern countries continue to present a lucrative market for ivory and other wildlife trophies.
Poaching in the region is on the rise as armed criminal gangs kill elephants for tusks and rhinos for horns, which are usually shipped to Asia.
As part of efforts to stop the crime, Kenya has started using high-tech surveillance equipment including drones to track poaching gangs and keep tabs on elephants and rhinos.
Parliament has also passed strict anti- poaching laws and the government has beefed up security at parks to stop poaching, which threatens the vital tourism industry.
Regionally, Kenya has also emerged as a major transit route for ivory destined for Asian markets from eastern and central Africa.
The illegal ivory trade is mostly fueled by demand in Asia and the Middle East, where elephant tusks and rhinoceros horns are used to make ornaments and traditional medicines.