Mudavadi: Visa threats behind handshake deal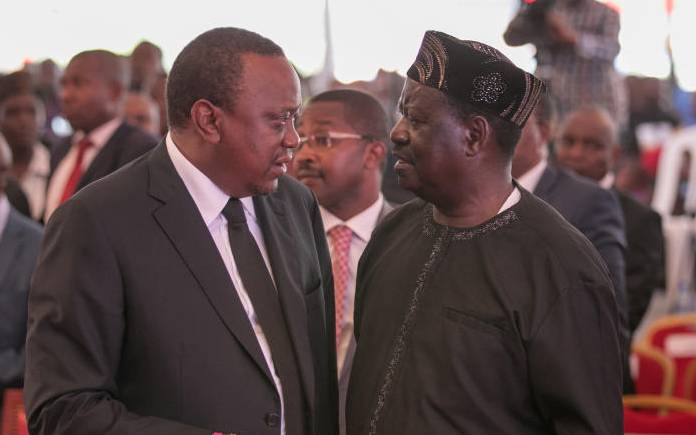 Amani National Congress leader Musalia Mudavadi now claims the Handshake between President Uhuru Kenyatta and Opposition leader Raila Odinga was born out of blackmail.
Mr Mudavadi told a gathering of Kenyans in the diaspora that some Western countries threatened to cancel visas for Opposition leaders and their associates unless they entered into a political deal.
Without disclosing the Western countries, Mudavadi said the visa bans were targeting opposition leaders, their spouses, children, and their relatives.
"The secret is that slowly visas were being cancelled. And when Visas are cancelled, they don't just cancel yours alone. They cancel yours, that of your wife, children, and relatives," he said.
Addressing a meeting at Muungano SDA Church in New Jersey on Tuesday evening, the ANC leader said the handshake was prescribed a condition to regain the visas
"I want you to go home knowing that I, Musalia, do not believe in cheating you. I believe in telling you the truth. So what gave birth to a handshake is personal survival rather than patriotism."
Soon or later, Mudavadi said the country will discover the swearing-in of Raila as people's president and the consequential circumstances were not based on patriotism, but were based on personal survival.
Take a quick survey and help us improve our website!
Take a survey
"I am speaking to my fellow Kenyans and I want to deliver some hard truths because, for too long, propaganda is spread and we get carried away," Mudavadi said.
Mudavadi and his co-principals Kalonzo Musyoka and Moses Wetang'ula were left out of the swearing in of Raila, with the ANC leader saying they were opposed to the event anyway.
In response to the allegations, Raila's spokesperson Dennis Onyango dismissed Mudavadi's claims.
He said the ANC leader was displaying ignorance since he was kept in the dark about the whole thing (handshake).
"This is a homegrown solution where foreign nations had no role to play and Mudavadi didn't know, and even now doesn't know, what happened. In any case, the two leaders agreed to have the handshake before the then US Secretary of State Rex Tillerson arrived in Nairobi to avoid a situation where it would be perceived the West had pushed them," he said.
The ANC leader had told Kenyans in the diaspora that indeed he came to learn of the handshake from the media just like anybody else.
Mudavadi has been on a 10-day tour of the US which ends today.
He has addressed various town hall meetings urging Kenyans in the diaspora to support his presidential bid.
He also opened the Kenya diaspora convention in Jersey City, New Jersey, where he affirmed that he is in the 2022 presidential race and will not step down for anyone.
He told the meetings he addressed that the poll agency as currently constituted cannot conduct a referendum nor the next General Election but must be disbanded.
The former vice-president reiterated his opposition to the Punguza Mzigo initiative, saying ironically it is cosmetic on the real burden on Kenyans in terms of expenditure.
Mudavadi once against attacked the Building Bridges Initiative, warning that it's not in the interest of Kenyans, but is all about power positions for individuals.
There are over 3 million Kenyans in the diaspora whose influence back home, according to him, is not just in remittances but in skills transfer and policymaking.
"The Government needs to provide Kenyans in the diaspora motivation to participate in the life of the country. They can do this by providing a safe environment for investment, facilitating political participation and involving them in national development," he said.
Mudavadi decried the high level of public debt facing the country which he says has impacted negatively on the country's development agenda.
"You can create a Diaspora Bond where the Government can borrow from and not from Eurobond or China," he added.