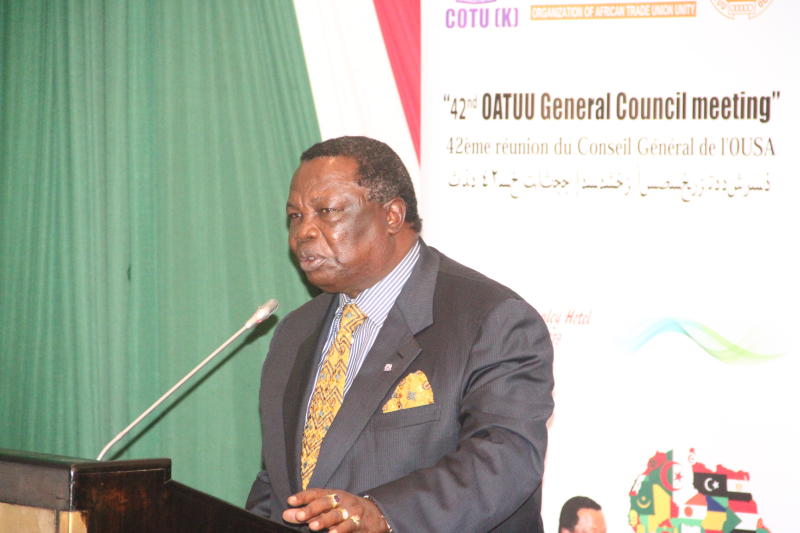 The need to create better working conditions for African workers has dominated a labour conference that is going on in Nairobi.
The conference organised by the Organisation of African Trade Union Unity (Oatuu) has brought together players in labour unions across the continent.
Central Organisation of Trade Unions (Cotu) Secretary-General Francis Atwoli, who is also Oatuu president, is hosting the forum which ends tomorrow.
Speaking yesterday, Mr Atwoli said labour unions in Africa must strive to harmonise labour laws in such a way that workers are no longer subject to poor conditions.
Acceptable standards
"Such harmonisation will help create a standard threshold for workers that is acceptable throughout the continent," said Atwoli.
"We must speak as one movement. Together we will come up with social protection strategies for workers in Africa, which include health and occupational safety rules. Even as we adopt technology, trade unions must play a part."
According to Atwoli, Oatuu also expects to empower women and young trade unionists who are engaged in advocacy campaigns in the continent.
He said the labour umbrella body would soon launch programmes for women and the youth who are the future of trade unionism in Africa.
According to the Oatuu's website, the labour body coordinates trade union actions in Africa, with its core interest being defending the rights of the migrant worker.
It also lobbies for harmonisation of labour legislation, and pushes for the principles of collective bargaining while dealing with employers.
Oatuu's agenda also includes working for African unity and economic integration, through pushing for the eradication of non-tariff barriers. It also lobbies nations to adopt economic justice.