Mugabe death and Kenya's unresolved land problem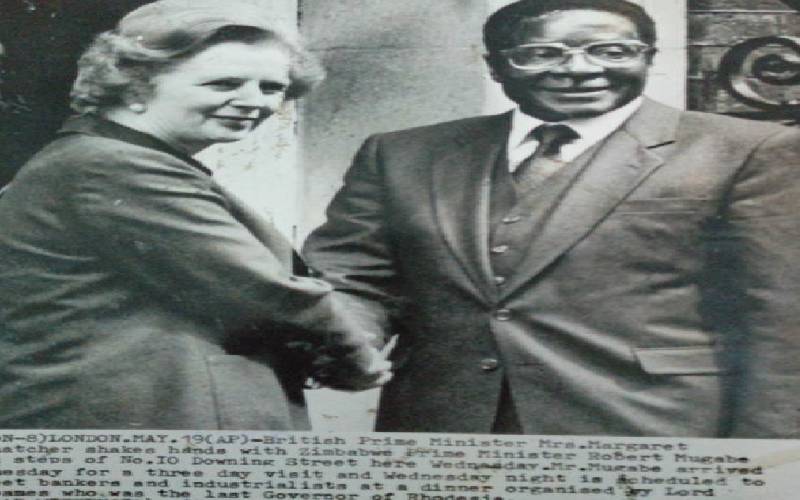 Not far away from the desolate Kanyamwi farm in Gilgil, where controversial Mau Mau hero JM Kariuki is entombed, a community of white farmers ekes out a living.
Their country homes are tucked away from prying eyes, behind thick foliage, reinforced living fences and roofs camouflaged in green. Occasionally, tastefully dressed ladies congregate for tea at an exclusive members club.
This is how 'The Guardian' described the settler community in Gilgil in 2004: "On a Sunday morning, women in floral skirts toy with lapdogs, while their husbands play tennis or head for the golf course. At the country club, tables are set for Sunday lunch."
As one drives past the club straddling the highway to Nyahururu, the untamed bushes and thickets give the rugged enclave a feeling of the wild west. This picture is further accentuated by the thoroughbred horses trotting along the road carrying their masters in shorts.
White community
The proximity of the white community to the final resting place of JM, who 40 years ago warned of the dangers of a country of 10 millionaires and ten million beggars brings out some of the ironies of life.
It is from Kanyamwi farm that JM used to drive to Ol Kalou, the headquarters of his Nyandarua North constituency, to superintend the redistribution of land in 1960s as the Jomo Kenyatta administration started its one-million-acre settlement scheme.
Nyandarua District was specifically created as a birthday gift to the country upon attaining its independence in 1963, and was used as a test tube for the implementation of the settlement of Africans in the White Highlands.
The settling of peasants in government settlement schemes would later fan out to Laikipia, Trans Nzoia and Uasin Gishu before the likes of Kihika Kimani took loans from the defunct land bank to buy land which was later resold to members of land buying companies.
Shortly before his life was cut short by an assassin's bullet, JM, who loved horses, must have mingled with some of the white colonial settlers after independence before they sold their land to the government or land buying companies.
While some of the colonial settlers retreated to Kenya's coast, a number flew to South Africa, where they had come from while others opted to settle in Zimbabwe, where the whites still reigned supreme and owned huge swathes of land.
The white settlers are back in Kenya, some of them now less than 10 kilometres away from the boundaries of the empire created by Lord Delamere, who at the height of the British Empire wanted to make Kenya a white man's country.
They are not very far away from the Aberdare Ranges, the sin den they baptised the Happy Valley, where free wining, drugs and unfettered sex were in vogue in 1940s
Delamere is long gone and part of his huge estate has since been sold, but these settlers are back in Kenya, courtesy of Robert Mugabe, Zimbabwe's first President who died last Friday.
To the white immigrants from Zimbabwe, Mugabe is a devil who turned their life into a nightmare because of his land policies, which disenfranchised them.
Kenya, like Zimbabwe, had been colonised by white settlers although the latter's history of colonisation is convoluted.
For 90 years, Zimbabwe was a colony of Britain. This subjugation had begun in 1890, when Cecil John Rhodes' British South Africa Company (BSAC) took over the country which he later handed over to Britain for colonisation.
And thus began the systematic dispossession of land in Rhodesia. By 1914, white settlers, who numbered just 23,730, owned about 19 million acres of land while an estimated 752,000 Africans occupied 21,390,080 acres.
The government, which pursued white supremacy policies, forced millions of rural residents to leave their villagers in search of work on large farms or in urban areas.
Ian Smith
In a dramatic turn of events, the Rhodesian government under Ian Smith declared itself independent from Britain in 1965, vowing that there would be no black majority rule in the country for a thousand years, further entrenching the oppression of the indigenous people.
This gave rise to a reawakening of nationalist movements leading to the launch of a guerrilla war campaign in the 1960s.
The armed struggle by the different guerilla outfits intensified in the 1970s, ultimately leading to a negotiated peace settlement, through a 1979 ceasefire agreement brokered by the British government, which saw the birth of a new country, Zimbabwe, in 1980 under one of the leading freedom fighters, Mugabe. He had been detained for 11 years for his troubles.
During the negotiation for freedom, the whites drafted a constitution which circumscribed the compulsory acquisition of land for a period of ten years after the date of independence, April 18, 1980.
Stephen Chan, in his book, Grasping Africa: A tale of Tragedy and achievement, says that Mugabe had all along been consistent in his call in land redistribution.
According to Chan, in 1992 when Mugabe realised that Britain and other donors were unwilling to fund the resettlement, he warned: "Those who will support it will support it. Those who want to sabotage it, sabotage it. We will go through the paths of comfort and discomfort and we will evolve ourselves in the process."
Although the government needed 8.3 million hectares for the resettlement, it only acquired 2.6 million hectares because most whites were unwilling to sell and had started hiking prices to unmanageable levels.
Mugabe later declared in 1996: "We are going to take the land and we are not going to pay for the soil. Our land was never bought by the settlers and there is no way we could buy back the land."
When the takeover of the land started, there were chaos and some settlers were killed. The migration of white farmers from Zimbabwe started.
Land officials
A senior Kenyan government officer recalled how in 2012, a delegation of top land officials from Harare visited Ardhi House in Nairobi and expressed surprise at how the country handled its resettlement process.
To begin with, the Zimbabweans were surprised that Kenya issued title deeds to re-settled farmers and allowed them to subdivide the land.
In Zimbabwe, Mugabe had outlawed any land subdivision and all the farmers were given leases instead of title deeds with an understanding that those who got tired of farming were to surrender it to the government.
Kenya adopted a different approach, and refused to entertain Mau Mau freedom fighters who wanted to be given land for free. Some freedom fighters who engaged the government led by General Baimungi were gunned down, unlike in Zimbabwe where veterans were allowed to invade white farms.
The land question in Kenya, just like in Zimbabwe is still a powder keg waiting to explode as historical injustices have not been resolved by post-colonial governments.
That is why as Kenya's flag mournfully flutters away in the wind at half mast out of respect for Mugabe, in some enclaves, hearts will flutter as the disgruntled colonials in their sunset years mutter in disgust, at the passing away of a man they so loved to hate.