KNH and unionists sign pay rise deal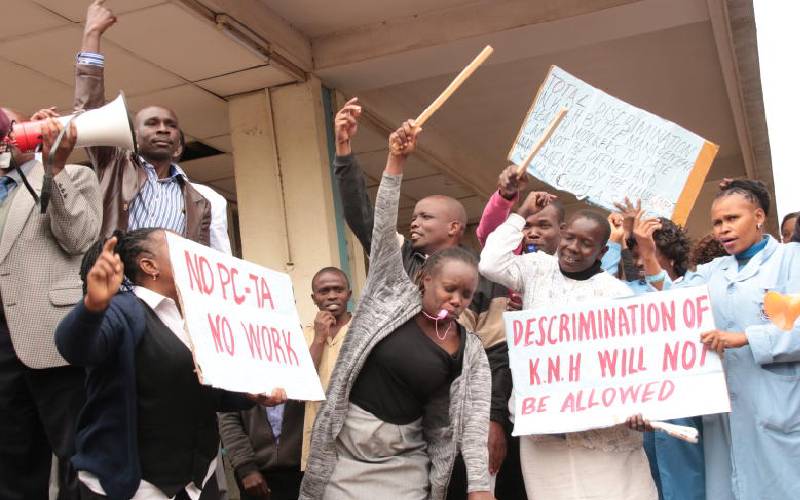 A return-to-work formula has been signed between Kenyatta National Hospital (KNH) management and workers' union just hours after services at the referral hospital were paralysed following a strike.
The document indicated that the hospital would pay workers the house allowance as negotiated earlier, which was one of the demands tabled by the union.
On Friday, the hospital boss Evanson Kamuri issued a memo to all staff indicating that the workers would be paid the allowances in arrears together with their September salaries.
Yesterday's deal showed that the parties agreed to set up a committee with a representative each from the Ministry of Health, the National Treasury, State Corporation Advisory Committee and Salaries and Remuneration Commission.
Kenya Union of Domestic Hotels Educational Institutions Hospital and Allied Workers (Kudheiha) will submit seven representatives, while the hospital management will have two.
The committee is expected to report progress by September 23.
"That the parties herein agree to engage further in good faith with an open mind respect and trust to restore industrial harmony in the hospital," reads the document.
The KNH board and union leaders earlier held a meeting that is said to have been attended by Health Principal Secretary Susan Mochache, to resolve the pay rise dispute.
The rise is as a result of re-categorisation of parastatals in 2012 by the State Corporation Advisory Committee, which upgraded KNH from 3C status to 7A.
As a result, all staff working at KNH were supposed to be incorporated in an enhanced pay.
But this did not take place, leading to the union issuing a 21-day strike notice.
Yesterday's strike, whose notice was issued by Kudheiha on August 21, was given a wide berth by nurses. [Graham Kajilwa]