Sh7m recovered, two cops arrested in connection with Sh72m heist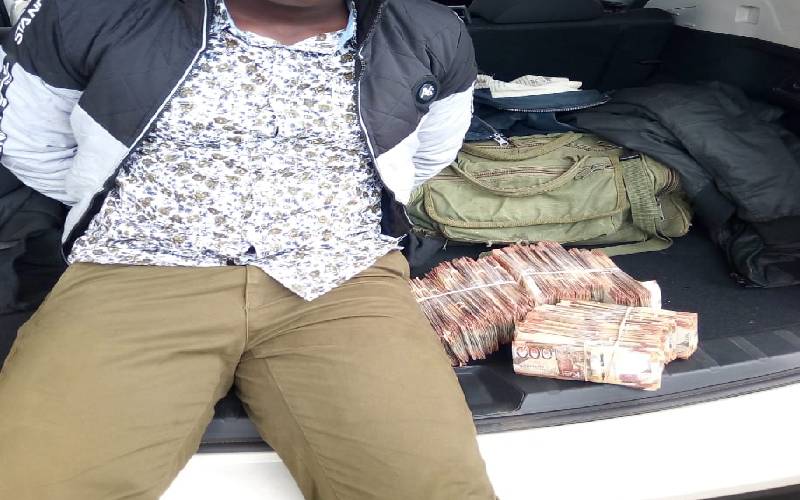 Detectives have arrested two police officers in Kisii and Kendu Bay and recovered Sh7 million, which is part of the Sh72 million stolen from a bank in Nairobi West on Thursday.
"Detectives have arrested two officers and recovered Sh7 million and a vehicle in Kisii and Kendu Bay," the DCI said.
Constable Chris Ayienda was arrested in Kisii and Sh4 million found, but on further interrogation, led the officers to Kendu Bay in Homa Bay, where his accomplice Vincent Owuor was arrested and another Sh3 million recovered.
Also recovered at Owuor's Kendu Bay house is a brand new Subaru Forester car.
According to detectives, the Subaru Forester was bought on the same day of the heist, using the stolen money.
The two suspects were planning to travel to Uganda with the loot.
They will be arraigned next week to face charges.
Intensified investigations
On Friday, three other suspects were arrested in connection with the heist.
Detectives nabbed the trio after a getaway vehicle used in the Sh72 million heist from G4S personnel as well as a Standard Chartered Bank ATM was found in their garage.
The two vehicles believed to have been used were recovered at Owino's Garage in Kikuyu Town.
According to detectives, one of the vehicles, a Toyota Noah, was being re-painted.
Three men posing as police escorting the G4S officials from their headquarters on Thursday turned out to be thugs, making away with Sh72 million.
On Friday morning, detectives had recovered 13 empty cash boxes in Thogoto Forest, Kikuyu.