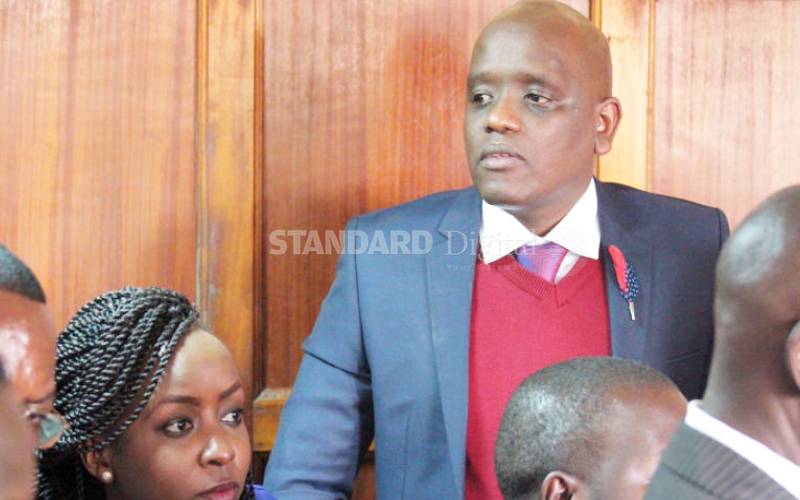 The State has been directed to respond to claims by a witness that police threatened him with death, to force him to implicate Deputy President William Ruto during probe into a fake letter on plot to kill the DP. Samuel Gateri said in court papers that detectives coerced him to confess to have had a telephone conversation with Ruto. This happened during his grilling over a letter purported to have been authored by a Cabinet secretary alleging a plot to assassinate the deputy president. Gateri was arrested in Embu on July 2 - days after an investigation was opened into the letter that had surfaced online alleging a May 14 meeting by three CSs to plot the alleged assassination. The saga prompted the questioning of the three CSs by the Directorate of Criminal Investigations (DCI).
Denied claims
SEE ALSO: Danger online as traffickers target helpless children
CSs Joe Mucheru (ICT), Peter Munya (Trade and East African Community) and Sicily Kariuki (Health) denied knowledge of a plot against the DP and demanded that Ruto records a statement if indeed he was the complainant. Authorities later branded the letter fake prompting the arrest and subsequent prosecution of State House's Digital Media Director Dennis Itumbi. It is during the ongoing criminal case against Itumbi that Gateri has filed the application to withdraw as a prosecution witness, citing threats of torture to force him to sign a statement. "I was under arrest and they told me that they would go ahead and execute me if I did not confirm I had a telephone conversation with his Excellency the Deputy President and Mr Dennis Itumbi was my link. They further threatened that they would take me to a high ranking security personnel in Government so that I could be dealt with," Gateri claimed in his application before court. "I insisted that I did not know the individuals they were mentioning at a personal level and that I only knew them through social media and I had never interacted with either of them therefore I could not be of any help to them," Gateri swore in an affidavit filed in court on September 2. Gateri, however, confessed to being a member of a Whatssap group called Tanga Tanga, whose name is similar to that of a lobby campaigning for Ruto's 2022 presidential bid, adding that he was "an open supporter of the Jubilee government presided over by President Uhuru Kenyatta and Ruto." Police have claimed the letter was first shared in the Whatssap group. But Gateri claims police coerced him to sign a statement he did not record and whose contents he does not know up to date. In an affidavit sworn by his lawyer Majimbo Georgiadis, Gateri told the court that he is concerned that the prosecution might rely on the statement made by officers drawn from DCI and which he was forced to sign. Gateri said the only time he saw Itumbi closely was when he (Itumbi) was being taken into custody at Muthaiga Police Station. Gateri was released on the same day. "I suspect there was anxiety to ensure that I do not meet or talk with Itumbi," he swore. Gateri also wants police compelled to release his two mobile phones which were confiscated upon his arrest. Yesterday, Milimani Chief Magistrate Martha Mutuku directed the prosecution to reply to Gateri's application by the end of this week in preparation for a hearing on September 30. However, DCI has publicly refuted that Gateri was among those who were to testify in the case saying he a suspect under investigation. "We wish to clarify that contrary to insinuation by one Samuel Gateri that he is a State witness in respect to criminal case against one Dennis Itumbi is false and misleading. The true facts are that he is a suspect under investigation. At no time was he envisaged to be a State witness," DCI posted on its official tweeter handle. A charge sheet presented during prosecution of Itumbi lists Gateri as the first prosecution witness. Ruto never recorded a statement and the matter froze until Itumbi was prosecuted after authorities said the letter that sparked the claims was fake.