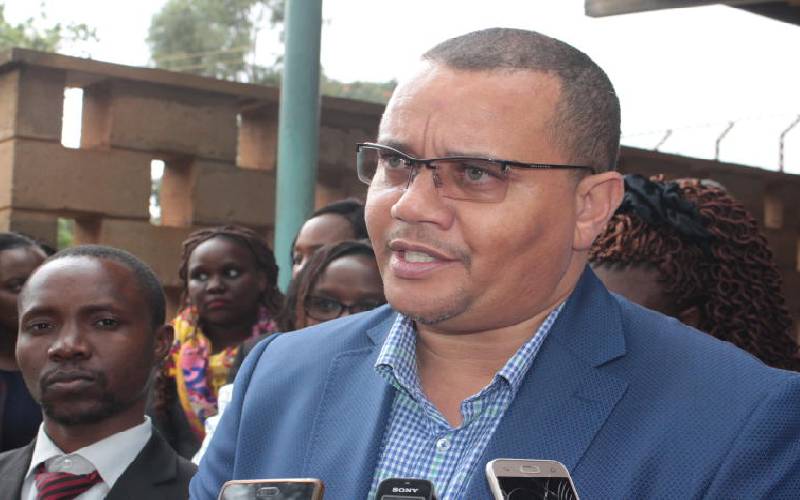 Lawyers have rejected a proposal to amend the law to compel them to disclose details about their clients' financial transactions. Through the Law Society of Kenya (LSK), the lawyers have opposed provisions in the Finance Bill 2019 that seek to amend sections of the Proceeds of Crime and Anti-Money Laundering Act to compel them to file reports on any cash they handle. "The LSK is fully supportive of efforts towards fighting money laundering and terrorism financing. However, the society is in opposition to legislative proposals and provisions that substantially affect the practice of law, rule of law and administration of justice," the lawyers' body argues. LSK President Allen Waiyaki and lawyer Tom Ojienda will today appear before MPs as legislators start public hearings on the Bill.
SEE ALSO: Solskjaer: It's not a death sentence if Man United don't finish in the top four
"The subject of legal professional privilege/advocate-client privilege is cemented under the law by the evidentiary rule of privilege under the law of evidence and the common law principle adopted under the Judicature Act," reads the memo signed by Mr Waiyaki. It continues: "Additionally, the legislative proposals impact several legal principles, practices and laws. The emerging issues include: confidentiality, role of lawyers, constitutional rights, evidentiary rules, criminal law principles and procedures, and the self-regulation of professional bodies." In a 13-page petition to MPs, Prof Ojienda wants the Bill withdrawn on the grounds its passage will be purporting to transform lawyers into investigators. "Sections 48 and 49 of the Finance Bill 2019 are inconsistent with Section 245 of the Constitution because they require advocates, notaries and other legal professionals to investigate their clients and report to investigative agencies. "With all due respect, advocates are neither agents nor officers of the Director of Criminal Investigations and, by extension, the Inspector General of Police nor the Financial Reporting Centre (FRC)," Ojienda says.
SEE ALSO: Solskjaer refuses to confirm whether De Gea will start against West Ham
The senior counsel argues that if the law is passed, it may jeopardise advocate-client confidentiality rules and lead to sanctions. "Furthermore, the illegal disclosure of client's information is fatal to the advocate's profession and business as it could expose advocates to disciplinary proceedings, withdrawal of advocate's practicing license and removal from the Advocates Roll." But according to FRC Director General Saitoti Maika, the amendments are based on vulnerabilities identified from a money laundering and terrorism financing risk assessment of the legal profession. "It's imperative to note that law firms have previously been implicated in various scandals i.e. NYS 1 and NYS 2 as well as the recent Nairobi County Government cases in court as having been used to hide stolen public funds. Similarly, a lawyer was also charged for complicity in the recent Dusit D2 attack," Saitoti said. He added; "The move is in the right direction, in particular in the fight against corruption and laundering of proceeds of theft of public funds. The matter was identified as the only remaining deficiency in Kenya's anti-money laundering regime to meet FATF (Financial Action Task Force) international standards."
SEE ALSO: Solskjaer hits back at Lampard over ahead of FA Cup clash