State committed to addressing challenges of joblessness, poverty among youth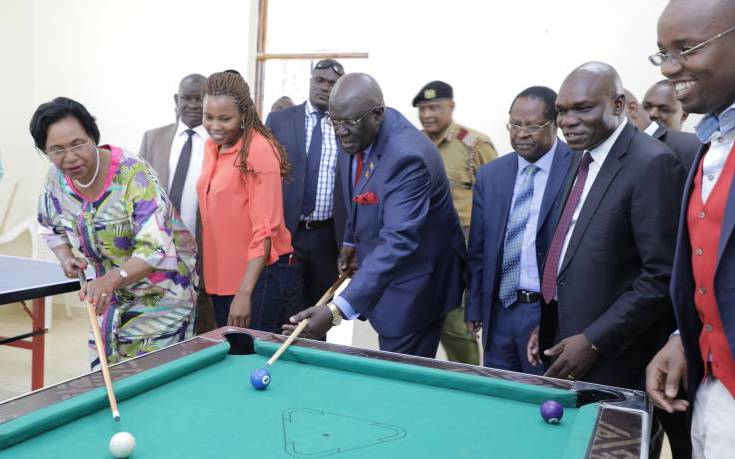 The Government has said it is committed to addressing the challenges facing the youth such as poverty, joblessness, and depression.
Public Service, Youth and Gender Cabinet Secretary Margaret Kobia said 40 per cent of Kenya's population, most of the youth, do not have meaningful jobs.
Prof Kobia said the Government was making education more affordable, relevant and of higher quality to equip youth with necessary skills to help them take charge of their lives, their families, the community and the nation.
She cited the ongoing recruitment of 3,200 interns in the public sector where they will be equipped with the skills and experience that is desired by employers.
"The Government has provided platforms for advancing young people through developing youth programmes and engaging them. The youth should exploit those opportunities," she said.
The CS was speaking during the launch of National Youth Week at the University of Embu on Tuesday. The week has a series of activities meant to raise awareness on challenges the youth face and work towards eradicating them.
The National Youth Week will culminate in the commemoration of International Youth Day in Kwale on August 12.
Education Cabinet Secretary George Magoha who was the chief guest, reprimanded leaders for corruption and lack of accountability, saying it was fuelling joblessness in the country.
In a terse statement, Prof Magoha said endemic grant and misappropriation of public resources has been denying youths opportunities that would empower and enable them lead decent lives.
He said corruption was widespread at all levels of government including the Education ministry where leakage of public funds is more than 30 per cent.
"The problem we have as a country is that almost everyone is a thief. Lack of accountability in utilising what is available is causing joblessness. I'm trying to seal the leakage in the ministry even if that will cost my life," he said.
He said if the theft of public funds is stopped, the money Kenya has is enough to cater for the needs of all citizens.
Prof Magoha also urged the Higher Education Loan Board to stop surcharging unemployed youths.
He said graduates were taking long before they get meaningful employment to start servicing their loans.
He, however, challenged the youth not to be choosy with jobs but take any kind of employment.
Prof Magoha called on youth set to join universities to shy away from courses that do not support self-employment.