Court finds two rugby players guilty of rape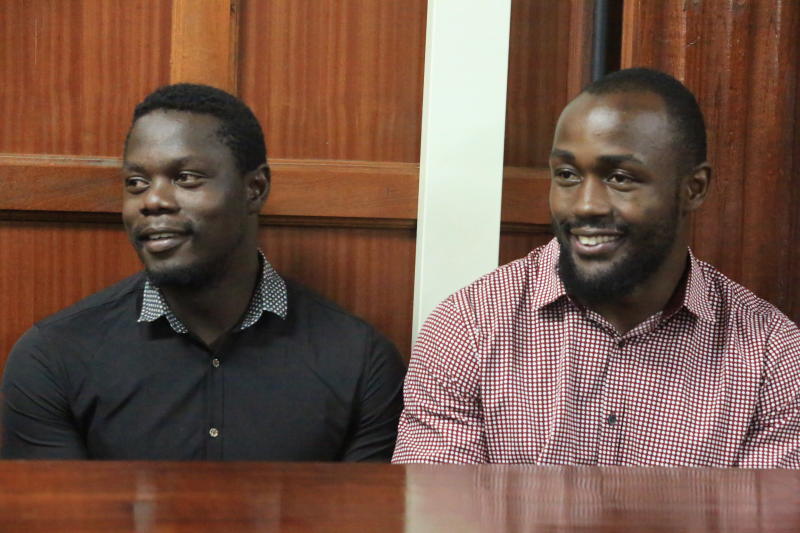 Two Kenyan rugby players have been found guilty of rape.
Milimani Chief Magistrate Martha Mutuku, in a verdict delivered in camera, ruled that Frank Wanyama and Alex Olaba had raped a woman named WA in February 10 last year at an apartment in Highrise, Nairobi County.
The two, who played for Kenya Harlequin, were out on Sh500,000 cash bail each.
Wanyama and Olaba were charged after an uproar on social media and WA filed a police report.
The artiste, in a series of posts, claimed she had been raped on her birthday. WA claimed she became pregnant from the ordeal. She claimed to have gone to Nairobi South Hospital for a medical test.
The events that have now culminated in the two being found guilty of rape, and frustrating their career as rugby players, started at a party in Spring Valley.
The artiste said one player lured her to his house after they left the party. According to her, the two took raped her in turns, as she fell in and out of consciousness.
They, however, denied the allegations, saying it was a sexual escapade that was mutually agreed.
Take a quick survey and help us improve our website!
Take a survey
Yesterday, the two walked to court hoping they would be acquitted. One of the players even told The Standard he was confident they had put up a case that would see them acquitted.
The incident, the player said, was painful because it cost him a chance to play for Kenya's national rugby team. He subsequently lost another one in the American rugby after they read about the claims.
After the saga became public, Kenya Rugby Union (KRU) sent a statement saying it did not tolerate sexual harassment.
"The matter will be reviewed as soon as practicable by the KRU, in line with existing procedures for all contracted players. KRU wishes to state that it does not condone sexual harassment or any other activity that goes against the spirit of World Rugby Regulation 20 and remains committed to continued respect, empowerment and increased participation of women in all aspects of the sport of rugby," KRU said.
The player now says his contract was never renewed despite him being shortlisted after the national rugby circuit.
"Rape is an abominable and repugnant crime that goes against everything I believe in, and who I am as a person. I do not condone it and it should never go unpunished," the player said. The two will be sentenced today.