Kismayu keen to rise up from the ashes ahead of Amisom exit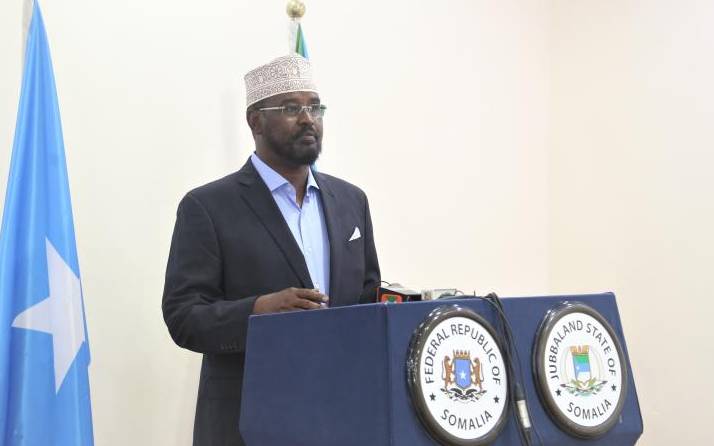 The two way radio on the dashboard comes into life. An agitated voice with a west African accent demands:
"Why are you showing us your weapons. You are supposed to turn the guns the other side now. We do not want costly mistakes."
There was nervous laughter on the other side of the radio, before the conversation abruptly ended. Everybody kept quiet inside the bowels of the battle-hardened tank.
In another tank, some heated argument erupts. A Sierra Leonean soldier was testily telling a colleague to stop pointing a rifle in his direction and instead point it upwards. They were sitting facing each other.
The soldier who had just been corrected was not amused. The 'dispute' was reported to the commander of the tank whose efforts to arbitrate were interrupted by a flow of expletives.
In the meantime, a civilian station wagon car joined the potholed road from a junction and dangerously sped, occupying space between the lead tank and second vehicle. This was a serious security breach in a country where cars are moving bombs.
Disasters are made of this. Everybody prayed, hoped and waited. The tanks rolled on and the tempers somehow cooled.
Charred remains of upturned cars tossed about by powerful bombs were scattered all along the route.
Sierra Leone is one of the six countries which has contributed troops to Somalia under Amisom. Others are Kenya, Uganda, Nigeria, Burundi and Ethiopia.
Finally, the 30 minute hair-raising drive from the airport to Kismayu State House was halted in front of a heavy metal barrier manned by mean-looking youths.
Outside the gate are evidence of chaos and bombs of days gone by. Sections of the road leading to the hallowed seat of power were like a scrap yards.
Seat of power
Inside the palatial State House, we hoped to meet Sheikh Ahmed Mohammed Islam Madobe, President of Somalia's Jubaland state.
This is the man who led the Ras Kamboni Brigade, which together with the Kenya Defence Forces (KDF), kicked Al Shabaab out of Kismayu in 2012 and liberated the region.
One by one, 14 journalists from Kenya crawled out of the bellies of the tanks. Some could barely walk under the weight of their cameras and tripods.
Kismayu, which has known some relative peace since it was liberated, is currently restive.
On July 14, the day journalists were to arrive in Somalia, Al Shabaab insurgents killed 26 people in a hotel where some local leaders were meeting to discuss the General Election scheduled for August.
The apprehension was palpable for journalists crawling out of the bullet-proof vehicles, weighed down by 20 kilo of body armour, a helmet and their tools of trade.
At the State House, the West African soldiers are directed to park their tanks outside. Only then is the gate to Madobe's command centre opened.
In the two-story building, painted white on the outside, is an air of opulence and power. There is a wall to wall red carpet and soft white leather seats with a rim of gold at the top.
"Kismayu is the safest city in Somalia and there is tangible evidence in every sector. We have integrated the refugees who have returned from Kenya's Dadaab camp and they are assisting us," Madobe said.
To demonstrate the importance of the refugees in his government, the President said most of his senior directors heading various government departments were returnees.
The atmosphere for investment in Jubaland, he said, is conducive. "The efforts of Kenyan sons and daughters in Somalia, some of whom have paid the ultimate price, have not been in vain," he said.
Kenya's Ambassador to Somalia Lucas Tumbo, who addressed a separate press conference in Mogadishu, said there are 35,000 Kenyans working in Somalia.
"I would like the number to increase because there are high returns for investors in Somalia," he said.
Madobe said the two countries have been good neighbours and he appreciates the role Kenya has played in the fight against Al Shabaab.
Good neighbours
Madobe's interview over, there was to be a photo opportunity, but as the journalists started to line up, one aide shouted: "You must remove the body armour. The President is not wearing one and he has told you Kismayu is safe."
On their way back, the journalists had to peer through circular windows to find out where the fabled stacks of Kismayu charcoal are.
"There has been a lot of lies circulated by our enemies, including the terrorists, of how KDF sells charcoal. This is not true. Our troops do not have time for such petty trivialities," Brigadier Dickson Ruto, the commander of KDF troops in Somalia, said.
Somalia is readying itself to fill the vacuum after the exit of Amisom troops in a year's time, but there are daunting challenges standing on her way.
Although some 10,000 police officers have been trained by AU, Somalia requires 32,000 law enforcers.
Security experts said Somalia still lacks a doctrine on military training, since some sections of their military had been trained by different partners.
Although the United Nation's Security Council has directed Amisom to withdraw troops from Somalia by 2021, there are fears that the country is not yet ready to run its own affairs.
On this, the head of AU mission in Somalia, Ambassador Fransesco Madeira, explained:"AU is not a colonising power, we came to help Somalia. We are transiting."