How leaders' best kept secrets are laid bare in death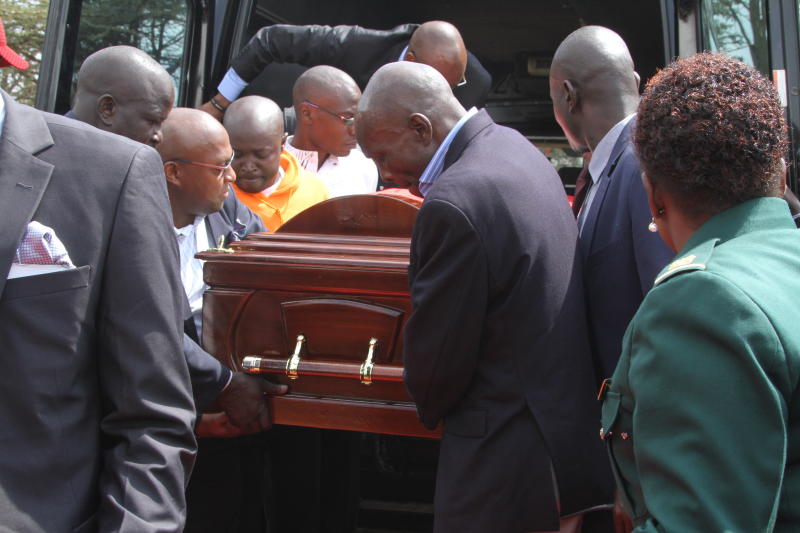 In life, they are venerated as saints. Their lives are spotlessly clean, or so their loved ones assume.
However, the moment the high and mighty breath their last, their deathly silence inspire scandals and controversies which run for decades as millions of shillings go up in smoke in the ensuing cat fights.
The doors to the vaults holding their millions and dark secrets are thrust open. Like vultures, gossip hunters and scandal mongers hover around the family and take their pick.
Although secrets of presidents, ministers, politicians top officers and business moguls have been bottled up long after their demise, majority are exposed to ridicule when their dirty deeds are graphically retold in bars and tea kiosks, in and out of the country.
Counter embarrassment
And now recent happenings are contradicting the old time caution that one should not talk ill of the dead.
It is turning out that even the most trusted friends can be conveyor belts of intimate secrets to strangers and mourners literally standing by your graveside, to the consternation of relatives.
The court orders, clandestine burials, deployment of bouncers and dawn cremations are now being adopted as measures to counter embarrassment during interments of affected people. This week, thousands were scandalised when Nairobi Governor Mike Sonko lifted the lid on the secret love life of the late Kibra MP Ken Okoth during his funeral service leaving the family shocked.
"We are cognizant of the fact that Ken had a son with one nominated MCAs by the name Ann Thumbi alias Anita. The two love birds did not hide the fact that they had a son," he said triggering controversy that led to a dawn cremation of the MP.
When veteran politician William ole Ntimama died in 2016, an affair he allegedly had with a woman identified as Rebecca Ngibia Wanjiku was exposed when a man who resembled him arrived at his burial in Narok County, seeking to be recognised as his elder son.
Rejected by the Ntimama family, George Kariuki Njoroge filed a case at the High Court to have the late politician's remains exhumed for DNA tests but Justice William Musyoka dismissed him saying he had "slept on his rights" for more than 30 years.
"What he now seeks to do would expose the family of the deceased to emotional anguish and torture," the judge said when dismissing the case on February 15, 2016.
By 2003, Vice President Micheal Wamalwa Kijana had led a fairly private life. But when he died, five women emerged, all claiming to have been married to him. The money meant to have been paid out to his children who at the time of his death were below 18, was never released and the dependents have since matured.
In 2012, former minister Njenga Karume drafted a Will and formed a trust to manage his vast business empire. When he died, the meticulous planning notwithstanding, a man surged forward claiming to be his biological son and sought to stop the burial.
Edwin Thuo later withdrew the application. The late Defence minister had indicated to the court few years before he died that the matter touching on Thuo's paternity had been settled by consent at the High Court in 2008.
In April 2013, the country woke up to the shocking death of Makueni Senator Mutula Kilonzo in a lonely ranch in Maanzoni. Eunice Nthenya, daughter of Kilonzo's herdsman, bolted from the blues to assert a relationship with Kilonzo where he sired a child.
High Court judge Luka Kimaru then ordered that DNA samples be extracted before the MP was buried at his Mbooni home.
A year later, yet another Senator, Homa Bay's Otieno Kajwang passed on. A woman claiming to be his wife caused drama at the Lee Funeral Home in Nairobi over claims that the burial committee was out to bar her from giving her last respect to the 'husband.'
In an affidavit filed in court in a succession case of the late politician's estate, Faith Vivian Otieno stated that she cohabited with Kajwang from 1994 to 2000 when her bride price was paid as per the Luo customary law.
Earlier this year in Nakuru when the former town County council chairman George Kori died, the family had to devise ways to beat scores of women who started emerging, in their own game.
Mourners were misled through public notices on the place and time of burial. In the meantime, Kori's body moved from mortuary to mortuary to escape possibility of the morgues being served with a court order.
When he was eventually buried, a day before the scheduled date, the burial programmes were still running at the printers. But the secrets have not been limited to surprise children or affairs. They have also included deep seated mistrusts among family members or even property disputes usually swept under the carpet in life.
When Mzee Jomo Kenyatta died, there was controversy owing to his polygamous life. The military did not know who between Wahu and Ngina to hand over his Presidential flag. A soldier on duty recalled the dilemma they had on conducting the president's final rites, including where he was to lie in state for viewing before he was taken to State House.
For ex-Nairobi Provincial Police Chief Timothy Mwandi Muumbo, Lee Funeral home has transformed into his second home since his death in 2015. A long running dispute between his first and second family spilled over into a contest over his place of rest.
The 1986 case of Silvano Melea Otieno also brought to public secrets of his wife Virginia Wambui Otieno's relationship with his in-laws. In another case, former Provincial Commissioner John Mburu's three wives fought over where to bury their husband who died in October 1981.
His first wife Carmelina was of the opinion that he be buried in Murang'a County while Helen and Mary chose his 90 acre Mbaruk farm in Nakuru.
And when former Kitutu Masaba MP George Anyona died, his body remained in the morgue as his family members fought over his final resting place. His brother Stephenson Mageto had obtained temporary orders stopping the burial until the whereabouts of Sh2.3 million raised was established.
His burial finally took place and armed policemen were deployed to guard the grave for fear of the body being exhumed by other aggrieved members of his family.