Ex-KVDA boss Kimosop, 8 others charged over Sh63b Kimwarer, Arror dams scandal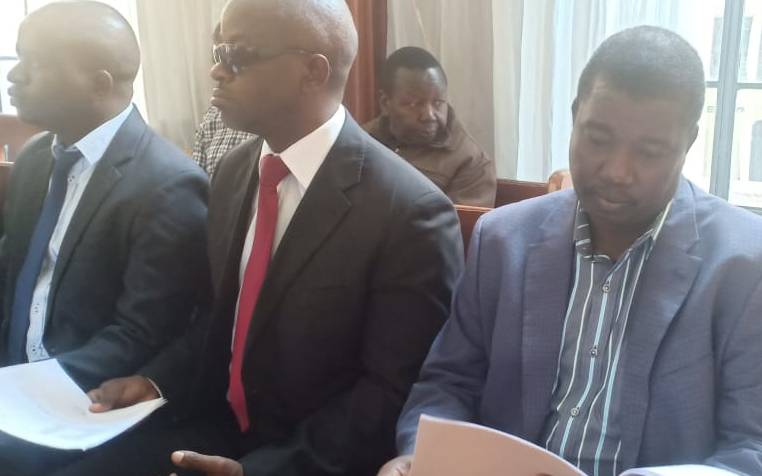 Former Kerio Valley Development Authority Managing Director David Kimosop and eight others have been arraigned at the Milimani Law Courts over the multi-billion Arror and Kimwarer dams scandal.
The suspects pleaded not guilty to multiple charges in connection to the Sh63 billion dams scandal in which the Director of Public Prosecutions Noordin Haji says about Sh19 billion was lost.
The group faces charges of abuse of office, willful failure to comply with public procurement laws and procedures, conspiracy to defraud the government of Kenya, engaging in the implementation of the project without proper planning contrary to the law and unlawfully procuring the services of Italian firm CMC di Ravenna other charges.
Former KDVA boss Kimosop was arraigned alongside Fredrick Towett, Patrick Kipsang, Elizabeth Kebenei, Nelson Korir, Isaack Kiiru, David Ongare, Titus Mureithi, Jackson Kinyanjui and Boniface Mamboleo.
Lead defence lawyer Katwa Kigen pleaded with the court to exempt Korir from reporting to the offices of the Directorate of Criminal Investigations on account of failing health and had the recommendations of his doctor to have bed rest.
Chief Magistrate Douglas Ogoti granted this request by allowing Korir to stay in court as his bail was being processed.
CMC di Ravenna director Paolo Porcelli failed to show up in court prompting the lead prosecutor Taib Ali Taib to call for his immediate arrest and presentation in court.
"I take personal offence to have a foreigner refuse to appear before this court. Porcelli is a fugitive. Italian companies refused to appear in court on Tuesday last week. The Counsel of Porcelli confirmed that he would appear today. But he has changed the tune now. That is unacceptable," argued Taib.
Taib submitted that the court ought to condemn the actions of Porcelli by declaring him a fugitive. He insisted that DPP Haji had instructed his team to ensure that the case proceeds without any delay, adding that they would not allow eleventh-hour applications like the one for Porcelli.
"We urge to find and verify that Mr Porcelli is a fugitive for justice. He has not presented himself to DCI or the court today. You should without hesitation issue warrant of his arrest and production in this court," he urged Chief Magistrate Douglas Ogoti.
Lawyer Taib argued that no African would behave before the Italian court the way Mr Porcelli did.
He told the court: "They believe they can reap our country and refuse to appear. They believe nothing will happen. Don't allow them."
Taib's argument was a warrant of arrest should be issued against any party which has defied the court order should be issued with. Prosecutor Taib was responding after Mr Porcelli's lawyer tabled another application explaining why his client did not appear in court, despite given more time in last week's (Tuesday) proceeding.
Porcelli's lawyer Kevin Anami opposed prosecutor Taib's statement terming it as racism-laden.
"Our constitution protects not only Kenyans. One of the most robust in protecting human rights. We are not trying to delay this process," Anami said.
Anami argued CMC di Ravenna and CMC di Ravenna Itinera had authorised him to take plea on their behalf. He entered pleas of not guilty for the two companies but said that he could not do the same for the director Porcelli who has to do it on his own.
Objection
The prosecution opposed plea taking arguing that by doing that the defence lawyer had engaged in irregularity.
"He crosses the line and ceases to be a client. He ceases to be an advocate after taking a plea for his client. The validity of that plea is questionable on the event the accused denies having given such instructions," said Taib.
He opined that the court was magnanimous enough to believe him but the prosecution was not. He challenged lawyer Anami to produce a resolution and written instructions telling him to take a plea of not guilty on the behalf of CMC di Ravenna and CMC di Ravenna Itinera.
"We urge you to adopt our argument. We pray that you are convinced by our argument that the 8th, 9th, 10th accused are not present despite given a second chance to present themselves," Taib told the court.
The prosecution said it was concerned that Anami was merely alleging to represent the accused parties.
Taib then expressed doubted that the defence lawyer could abide by the bail terms given that he was not the director of the companies.
But Mr Anami on his rebuttal said he would present documents showing resolutions.
He said: "We are willing to file a proper resolution by these two companies indicating instructions to us to take plea on their behalf. They have been sued as legal persons."
The judge ruled that warrant of arrest could only be issued after plea taking
He is among the high-profile individuals implicated was yet to appear in court, spent Friday night before being released on Saturday morning.
Other suspects in the case and who have since been charged include Treasury Cabinet Secretary Henry Rotich, Principal Secretary Kamau Thugge, and Susan Koech.
Geoffrey Wahungu, who until Monday was the National Environment Management Authority (Nema) director, has also been charged and released on bond.