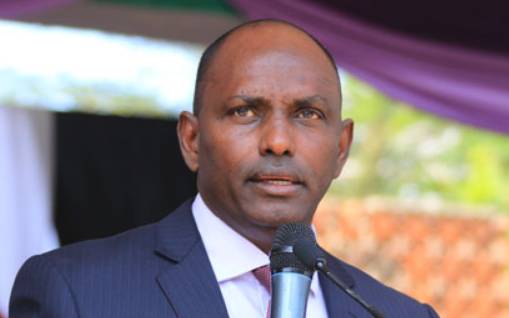 The Cabinet Secretary for Labour Ukur Yattani, who has been appointed by President Uhuru Kenyatta as the acting Cabinet Secretary for National Treasury has said that he is ready for the task ahead and will strive to meet the expectations of Kenyans.
Shortly after being named as the head of Treasury, Mr Yattani addressed the media and exuded confidence in his ability to deliver, albeit appreciating the cumbersome nature of the new docket.
"I thank the President for the honour and trust he has bestowed on me by appointing me as the acting cabinet secretary for the treasury. I promise to do my best to realise the dreams of transforming this nation," Yattani stated.
He added: "I am aware that the task ahead is enormous and the expectation is high on the side of Kenyans. I will strive to ensure the fiscal soundness of the economy by giving priority to the areas that will support the government's Big Four Agenda and realization of vision 2030."
Read More
Yattani said that he was fully aware of how the Government works. He said that his appointment was coming at a time when there are prevailing thorny issues of governance would only mean that he has to meet his set obligations.
He said that some of his goals include instilling discipline, and ensuring proper financial management in his tenure.
The Governor takes over from Henry Rotich who was on Tuesday charged with multiple counts of corruption in the Kimwarer and Arror dams project.
Mr Rotich alongside his PS Kamau Thugge alongside other 19 other suspects were arraigned at Milimani Law Courts where they pleaded not guilty to the charges.
On Monday, the Director of Public Prosecutions Noordin Haji said that the public lost Sh19 billion in the scandal.
The President has also appointed Dr Julius Muia to replace the former PS Kamau Thugge.
Mr Yattani is a former Governor of Marsabit County, MP of North Horr. He also served as Kenya's Permanent Representative at United Nations, Vienna. Born in 1967, Yatani received his Bachelor of Arts in Economics and Sociology from Egerton University in 1991. In 2005, he joined the New York University in the UK from where he obtained a Master of Public Administration and Public Policy.
Before landing the Principal Secretary at the National Treasury & Ministry of Planning Dr Muia was the Director-General of the Vision 2030 Delivery Secretariat which operates under the Office of the President. Before this, he was the Secretary, National Economic and Social Council, Office of the President. Masters Degree and PhD in Finance from the University of Nairobi's School of Business. He is also a Certified Public Accountant (CPA-K).
Reported by Brian Ukaya and Japheth Ogila