We'll capture all your views, says BBI team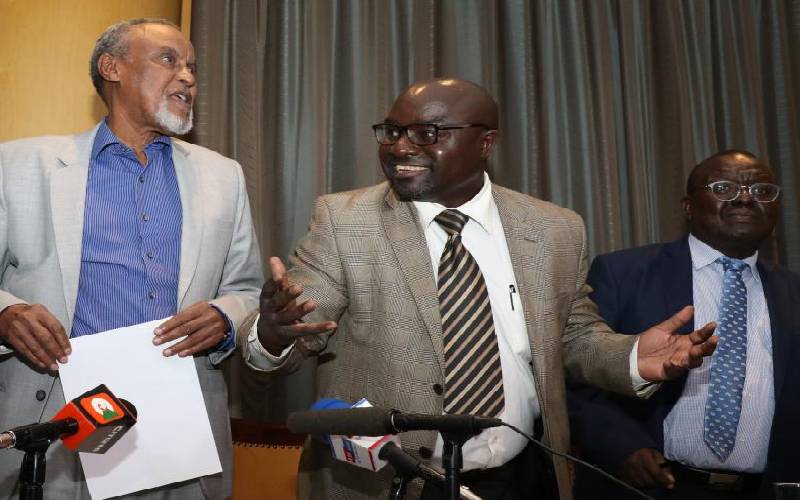 The Building Bridges Initiative (BBI) team yesterday said it will ensure views of all Kenyans are captured before it concludes its sittings early next month.
The task force formed on March 9, 2018 after the famous handshake between President Uhuru Kenyatta and opposition leader Raila Odinga to end years of hostility, has been gathering views on the nine issues identified as key problems ailing Kenya.
The team is expected to collect and collate Kenyans' views on how best they want to be governed and as well as fix problems that have been bedeviling the country.
The team has so far received suggestions that could see the country go for a referendum should they be implemented.
Among proposals the team has so far received is that the country should expand the executive structure to ensure wide dispersal of power.
Others have called for reduction of MPs and Senators while others have called for introduction of the position of a powerful PM.
And today, the team headed by Garissa Senator Yusuf Haji heads to the remaining seven counties to collect views of Kenyans. These counties are Taita Taveta, Kwale, Tana River, Lamu, Trans-Nzoia, West Pokot and Bungoma.
Haji said they will end hearings in Nairobi on the first week of August before retreating to write a report.
"The team is burning the midnight oil to conclude its work as per schedule and hand the report to the President and former PM for further action," he said in Nairobi yesterday.
He added: "The process of receiving views is going on well. We plan to conclude on the first week of August. Kenyans have faith that BBI members are responsible people ready to do duty for the country. That's why we are doing everything possible to ensure views of all Kenyans are captured."
He was accompanied at the press briefing by members Adams Oloo, lawyer Paul Mwangi, Prof Saeed Mwanguni and Dr Stephen Karao.
The team clarified it is yet to make any conclusions and asked for patience.
"Currently, we are only collecting and synthesising the information. It is during the retreat that we will sieve the information and identify what is important from what is not before submitting our report," said Mr Oloo.
He said they will only consider views presented to the team and ignore statements made 'at funerals'.
"As a task- force, the views we will consider are those presented to us orally or through memoranda. If you speak in a market, funeral or any other public function and the media covers you, we will not consider your views," said Oloo.
He added: "It is not for BBI to decide whether there is a referendum or not. That decision lies with the people of Kenya."