The celebration of Bob Collymore's life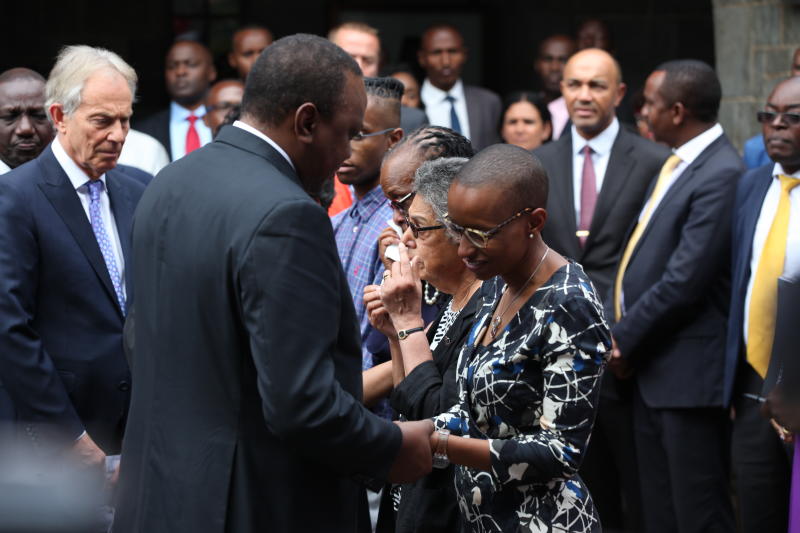 Memorial services are usually dark sombre affairs.
But yesterday's memorial service for fallen Safaricom CEO Bob Collymore was a joyous celebration of his life.
Speaker after speaker at the All Saints Cathedral, Nairobi, said Collymore's life, even though abruptly cut short by cancer, was a model of greatness.
"He (Bob Collymore) was a good example of how a good life can be led," said former British Prime Minister Tony Blair.
Friends, colleagues and family members said Collymore lived his life to the fullest, rising to become the CEO of one of Africa's largest telecommunications company while still remaining a devoted family man, remarkable friend and boss.
They said despite the enormous responsibilities on his shoulders and the knowledge that he was running out of time, Collymore still retained "a wicked sense of humour".
Speaker after speaker narrated how Collymore prepared them for his death up to the last days of his life, including giving them a countdown to his death.
"I will be lucky if I get three more days," one recalled Collymore telling them.
Stickler for details
They testified how the former CEO personally planned his sendoff, expressing his desire to be cremated and his wish that speakers stick to time while eulogising him.
Still, tears flowed during the memorial service. Some speakers lost the fight to fight back tears.
Collymore's predecessor and current acting CEO Michael Joseph wept as he finished his tribute after bravely fighting back tears for some time. He described how his successor at Safaricom bore the indignities and pain of his cancer with an undying sense of humour and resilience.
Despite the solemnness that prevailed in the ceremony, speakers still found ways to make Collymore's widow, Wambui, smile, like when Joseph recounted his wish that speakers do not go past their allocated speaking times at his funeral.
President Uhuru Kenyatta jokingly expressed his regret over failing to go back to collect a special present promised to him by Collymore — the whisky enjoyed by Collymore and his tight circle of friends, now famously known as the Boys Club.
A family member recalled how Collymore smiled in his trademark warm "toothy" smile for an entire hour after Wambui's family accepted his request to marry her.
The All Saints Cathedral boasts a seating capacity of several hundreds, excluding more space on its vast compound.
But yesterday, the church was nearly overwhelmed by the hundreds of Kenyans and foreigners who congregated in the church and its compound and the bordering Uhuru Park to celebrate the life of Collymore, a man who impacted the lives of millions of Kenyans directly or indirectly.
As the mourners settled, the Safaricom Youth Orchestra and Ghetto classics played jazz music that Collymore loved. The sombre melodies would continue in intervals throughout the service.
The set-up was pristine, with white-draped seats arranged in rows and bouquets of white roses positioned throughout the compound as were flickering long white candles and photographs of Collymore mounted on wooden stands, his radiating eyes staring earnestly at the camera through his glasses.
Inside the cathedral and its compound, guests were handed the day's programme, a eulogy booklet and bottles of water, while two large screens projected the service to the crowd outside and in the nearby Uhuru Park.
Security was tight, given the important guests in attendance, from Uhuru to the former UK Prime Minister as well as serving and retired corporate and political leaders. The main door to the church was barricaded and heavily guarded.
Due to the limited space, many of the guests parked their cars at Uhuru Park and nearby parking zones.
Hundreds of mourners who arrived late were restricted to entering through Uhuru Park as the main entrance along Kenyatta Avenue was reserved for the late Collymore's family and the myriad VIPs who thronged the service.
Collymore's wife Wambui, and his mother and sister sat through the service. Wambui still had her head shaved, having cut it in solidarity with Collymore's battle with cancer.
And as speaker after speaker took the microphone, the congregation inside the church and the crowds outside hang on to every word, sitting or standing quietly in deep contemplation.
Throughout the service, some moments of Collymore's life were beamed on the screens, from his interactions with the underprivileged to his connection with Safaricom projects such as the M-Pesa Academy.
One moment that was beamed showed Collymore calling out for passengers in a bus on the streets of Nairobi.
Collymore took his final bus on Monday morning.