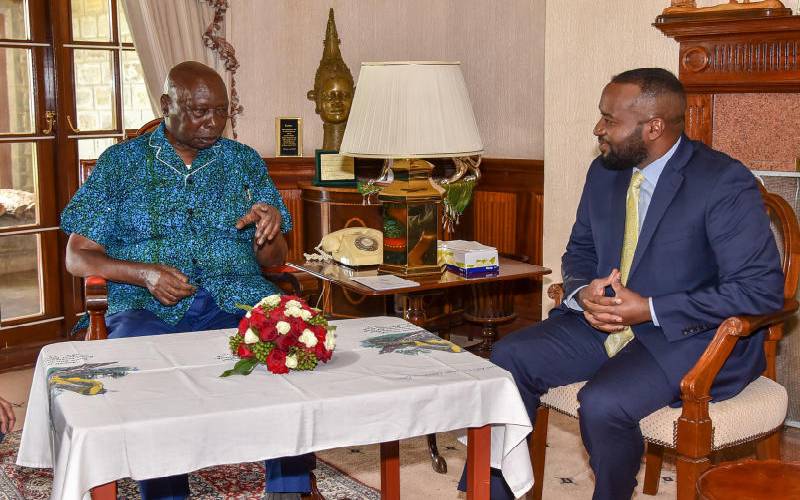 Retired President Daniel arap Moi has denied claims that he was involved in irregular transfer of a 20-acre parcel of land as stated by a local daily. Moi, in a demand letter to the Nation through lawyer James Ochieng, wants an apology and full retraction of the text within seven days. The publication on July 1, 2019 in relation to the former President under the page one headline 'How Uchumi bought Army land from Moi', claimed the former Head of State acquired a 20-acre parcel of land in Nairobi using a firm that had not yet been formed, then sold it to Uchumi Supermarkets. The publication went further to state that the company co-owned by Moi and businessman Joshua Kulei sold to Uchumi the land which the Kenya Defence Forces (KDF) has now taken over.
SEE ALSO: Errors that have turned Kenya into a retailers' graveyard
Nation in their article said they had learnt that the former President and his aide acquired the land in Roysambu, Nairobi, in 1992, using the company that had not yet been formed and sold it to Uchumi which is currently locked in an ownership tussle with Kenya Army for the prime property.
Defamation
The newspaper article and the message contained as per the letter sent to the Nation on July 1, in its meaning has been seen to have portrayed Moi to have been involved in an irregular transfer of the land to Solio Construction Limited and that he is controversial and at the centre of the sale of the land. He wants the Nation to admit liability for defamation arising from the Monday publication. The article by the Nation has since been seen as calculated to belittle Moi in his character and reputation as the former President, statesman and holder of public office.
SEE ALSO: A not so secret Coup and needless deaths
"The publication thereof has injured our client in his character and reputation as a retired President and holder of public office, statesman and legitimate individual with business concerns both in and outside Kenya," read part of the demand letter. The publication, according to the letter, has brought Moi to public ridicule, hatred, contempt, has disgraced and humiliated the former President and subjected him to untold embarrassment. Moi, through the lawyer, wants the Nation to apologise and retract the text of the publication and also pull down the online version of the story in their website. "Our instructions are to demand, which we hereby do, your unequivocal admission of liability for defamation arising from the said publication as well as suitable and fitting apology to be approved by us and given much prominence as the defamatory publication in the next issue of your publication and full retraction of the text and tenor of the offending article," read the letter in part.