Emotions run high as murder case against Maribe starts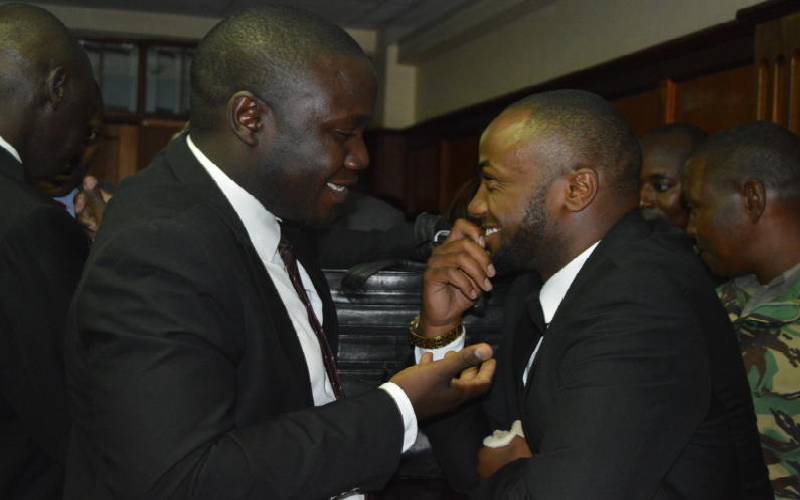 The brutality with which businesswoman Monica Kimani met her death was laid bare in court yesterday, as prosecution opened its murder case against journalist Jacqueline Maribe and her fiancé Joseph Irungu.
Emotions ran high as police investigator Jennifer Jepkosgei presented photographs of Monica's body lying in a bathtub at her Lamuria Gardens apartment in Kilimani, Nairobi.
The prosecution produced a power point presentation of the crime scene. People who packed the court shook their heads in disbelief as the cruelty Monica was subjected to before her death became apparent.
Some struggled to hold back tears as others looked away. Some of the pictures showed the victim's hands and legs were tied. Her throat was slit.
In her opening statement, Senior State prosecutor Catherine Mwaniki said they had enough evidence to ensure a conviction.
"Ms Kimani's death was not just another statistic or a newsflash. She was a daughter, a friend, sister and business partner to many. Now she is gone forever and the question we are asking is why it had to end with the brutal killing," said Ms Mwaniki.
Maribe and Irungu, who were once inseparable lovers, sat side by side listening keenly.
Good health
Mwaniki told the court that Monica was a determined young businesswoman who went beyond the Kenyan borders to Juba in South Sudan to fulfill her dreams, only to meet her death a few hours after getting back into the country.
"We will prove that Irungu was with her the night she was killed and that they conspired with Maribe to cover up the murder. We will prove that at the time of the incident there was no provocation or an incident of self-defence to justify the action," she said.
Mwaniki added that the prosecution had lined up witnesses who would prove that Irungu and Maribe were the principal offenders. Will ask the court at the end of trial to find them guilty.
The prosecution presented their first witness, Peter Muriuki Ndegwa, who performed a postmortem examination on Monica's body.
Dr Ndegwa said he performed the test on September 24 at Chiromo Mortuary and that a look at the physical appearance showed Monica was in good health and energetic before her death.
"I noted that her body was pale, both hands tied with a strap and a visibly slit airway. The internal examination confirmed that her throat was slit through and through, and the veins which take blood to the brain completely cut off," he said.
He told the court that Monica's internal organs were intact and that any sharp weapon could have been used to cut the throat.
He concluded that the death was caused by excessive bleeding due to a severe neck injury and trauma.
Ms Jepkosgei, who was the second witness, explained how investigators collected evidence at the murder scene. She will continue with her testimony today.