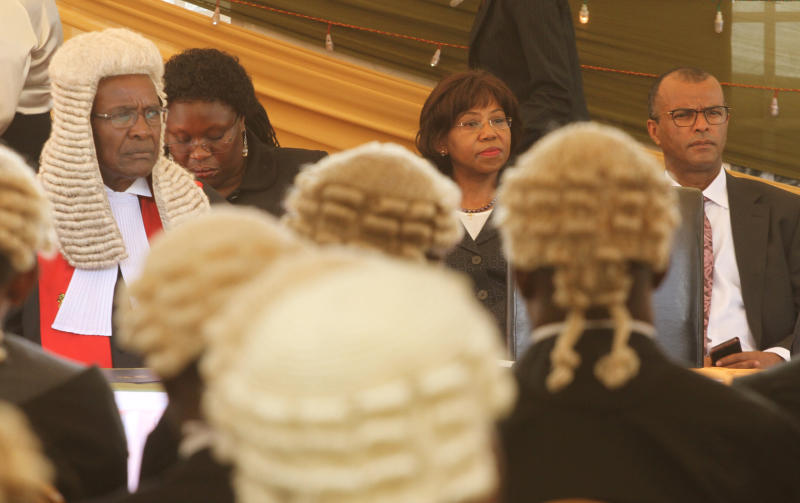 Hundreds of cases are in limbo following the transfer of magistrates from various stations in what could affect the conclusion of major suits. The changes effected by the Judicial Service Commission (JSC) a few months ago have led to a number of cases -- ranging from murder, corruption, land and family tussles -- beginning afresh when new officers take over. Already, the Judiciary is battling a backlog running into tens of thousands of cases, with its calendar already full for 2019 as litigants wait for justice following the transfer and promotions of 74 magistrates early this year. Law Society of Kenya (LSK) President Allen Gichuhi said there is need for the Judiciary to come up with a standard procedure on how judges and magistratesshould handle partly heard matters.
SEE ALSO: Makadara Court temporarily closed over Covid-19 outbreak
"It is a complicated issue that LSK has raised for years. JSC should give a three- to six-month notice to the officers to be transferred so that they can concentrate on old matters. On cases that most witnesses have testified and who include the old or sick, magistrates and judges should be given special permission to return and conclude them," he said.
Fresh trial
Gichuhi said some officers do not take over from where their predecessors left but ask witnesses to start afresh, simply because they do not accept evidence adduced by witnesses who have already testified. Section 200 of the Criminal Procedure Code allows a magistrate to act on evidence recorded by his predecessor or re-summon a witness and recommence the trial in cases where a judgment has not been written and signed.
SEE ALSO: Technology a critical enabler for efficiency in our justice system
The law requires that a succeeding magistrate must inform an accused person that they have a right to have the matter heard afresh, recall a witness or proceed from where it had reached with the initial magistrate. In Mombasa, the prosecution and defence have to decide if a case involving nine crew members of an Iranian flagged vessel that was intercepted off the Kenyan coast in 2014 with heroine worth Sh1.3 billion will start afresh. In Homa Bay County, the transfer of Principal Magistrate Susan Ndegwa in December 2018 has affected several cases as residents await her replacement. Some of the accused persons are said to have asked the court to have the matters handled afresh by two other magistrates serving the station. In the Kiambu Law Courts, where the case on the killing of city lawyer Paul Magu, his wife Lydia Wangui and their three children has been pending since March 2016, JSC transferred Principal Magistrate Justus Kituku who was handling the case.
SEE ALSO: Sports CS Amina admitted to the bar - photos
Mr Kituku ruled in September last year that a preacher, Ann Wanyoro, accused of killing the family members has a case to answer. When an officer is facing a disciplinary issue, casesbefore him are also affected in one way or another. This also contributes to delays in dispensing justice. For instance, the public inquest into the death of former Nyeri Governor Wahome Gakuru is to start afresh after Senior Resident Magistrate Maisy Chesang, who was handling it, was charged with the murder of her husband Robert Chesang. Three witnesses had testified before Ms Chesang on what transpired on November 7, 2017 when Gakuru was killed in a road accident along Nyeri-Nairobi highway. During the launch of the third cycle Judiciary Performance Management and Measurement Evaluation Report last month, Chief Justice David Maraga said ensuring cases are heard on fixed dates enhances public confidence in judicial services.
Delayed judgement
"Once a case has been heard, a judgment must be delivered. Without a judgment, the case remains unresolved, and continues to be a cause of the backlog. It also becomes what is commonly referred to as 'delayed judgment'," he said. The CJ gave a commitment to have the cases that have been pending for five years and above cleared by the end of December 2018 when there were 170,186 of them. By end of March this year, 154,184 of the cases had been solved. However, another 45,000 transited into the five year bracket. The Judiciary, Maraga said, is facing a shortage of magistrates and judges, but JSC is trying its best to have some of the slots filled soon.