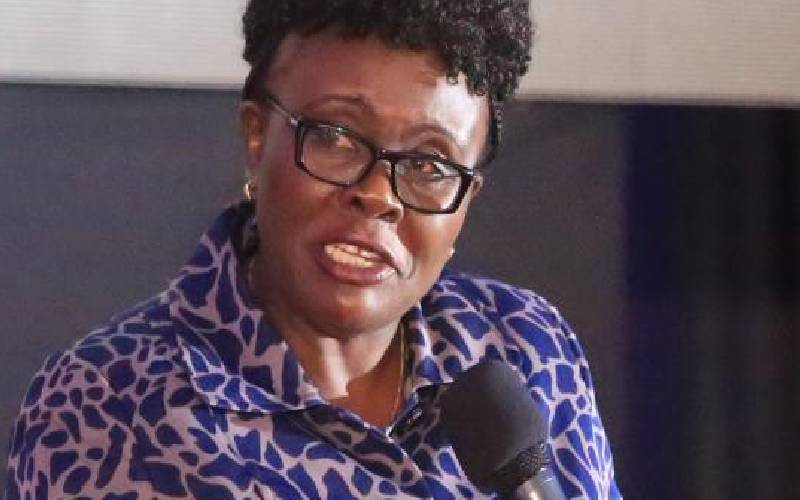 The National Land Commission (NLC) is caught up in a new storm for demanding facilitation cash from individuals and companies seeking its intervention in land disputes.
The latest controversy was sparked by a demand by NLC officials to Telposta Pension Scheme to pay Sh8.2 million to facilitate commissioners begin hearings over a dispute.
Former NLC vice-chair Abigael Mbagaya acknowledged that has always been the practice and that they have gotten monies from other institutions since their budgets was inadequate.
However, the Ethics and Anti-Corruption Commission (EACC) yesterday insisted it is illegal and they will open an investigation.
Telposta Pension Scheme had written a letter to NLC asking for assistance in reclaiming its reportedly grabbed properties but were unable to after a reply letter in 2017 signed by Mbagaya on behalf of then NLC Chair Muhammad Swazuri asked for Sh8,232,400 to facilitate the process of reviewing of grants and disposition of public land vested to the scheme.
Mbagaya wrote back that NLC had started investigations and "will hold public hearings under section 6 and 14 of the National Land Commission Act, 2012, to determine their legality and propriety as required by the law."
"The commission is therefore requesting you to provide support for requirements needed to facilitate the process as stipulated below for hearings across the country," said NLC's letter.
The letter went ahead to give NLC's bank account number where the money would be sent.
NLC asked facilitation, including per diem for commissioners and secretariat at Sh4.7 million, air tickets Sh1.2 million, advertisements in two daily newspapers of wide circulation as per the law at Sh1.5 million, cost of fuel for local running at Sh350,000, cost of hall hire, snacks water and lunches Sh700,000, cost of hansard recording Sh400,000.
The total cost amounted to Sh8.2 million.
"Kindly let us have your confirmation to our request to enable us act expeditiously. Below is our account detail," added the letter.
However, Telposta Pension Scheme were puzzled by the request and CEO Peter Rotich sought the advice of the scheme's lawyers and did not pay.
"NLC is a public entity financed by the exchequer with resources even to compensate private properties which are to be turned into a public good," said the scheme's lawyers.
The lawyers also wondered if NLC would deliver after being paid for the reviews.
The scheme is puzzled now on the "most appropriate" route it would take in order to reclaim its properties.
The lawyers advised on out-of-court settlement with the grabbers, petitioning government to revert the properties and compensate the scheme the full value of the properties at the current market rates or file a petition at the High Court.
Speaking to The Standard, Ms Mbagaya rejected claims that asking for such facilitation was an illegality.
She said that the cost of public hearings is "very expensive" and during her stint at NLC, they had a budget of Sh1.2 billion that could not cater for certain land reviews, especially owing to institutions that had large swathes of land across the country.
She said that they were sometimes even left with pending bills owed to people they'd hired during land reviews, for example hansard recorders.
She said that Telposta had a big portfolio with properties all over the country.
She added that NLC had helped Telposta recover their properties in Gilgil and Thika at no cost.
Telposta Pension Scheme has Sh16 billion worth of assets across the country and is currently working with the Directorate of Criminal Investigations to investigate the grabbing of some of its properties estimated to be worth Sh1.2 billion.
Mbagaya said that the Kenya Forestry Service, the National Housing Corporation, the Kenya Prisons and National Museums of Kenya had footed the costs for the hearing of their land disputes.
However, EACC spokesperson Yassin Amaro told The Standard that no public entity should be paid money to do its work.
"If NLC has been doing this, it's illegal and let all other people who were affected should come forward and report," he said.
He promised that EACC would launch investigations into the matter.
Mbagaya revealed that counties had also paid the NLC to establish the legality of some of their land.
She mentioned Kilifi, Mombasa and Kiambu counties.