Ethiopian truth body eyes ideas from TJRC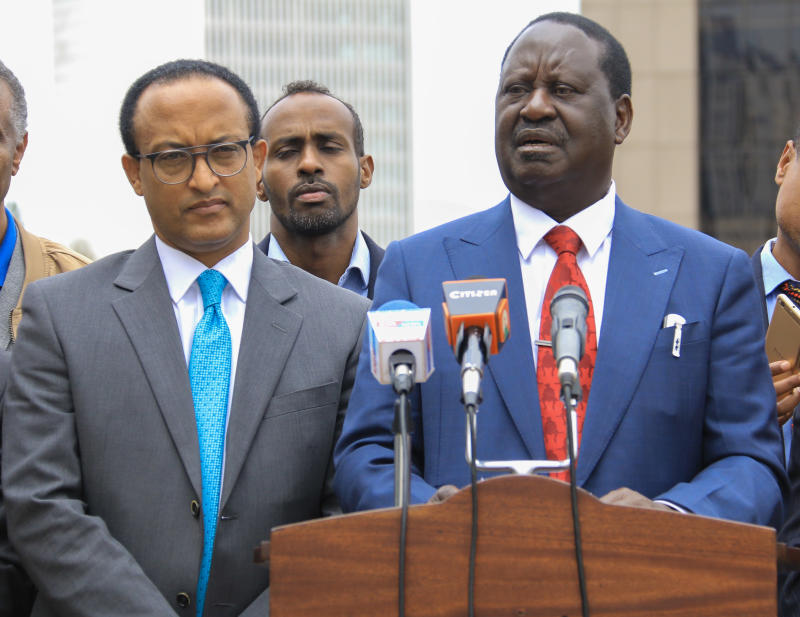 Former Prime Minister Raila Odinga has hailed Ethiopian Prime Minister Ahmed Abiy for opening up democratic space in his country.
Raila said the economic and political reforms being spearheaded by Mr Abiy would go a long way in creating stability in Ethiopia and the rest of the Horn of Africa region.
The former PM was speaking yesterday at his Capitol Hill offices in Nairobi when he met a delegation from the Ethiopian Reconciliation Commission.
Ethiopian Ambassador to Kenya Meles Alem said the team was hoping to learn from Kenya's experience in addressing historical injustices, especially on the workings of the Truth, Justice and Reconciliation Commission that was set up after post-election violence.
Raila singled out Ethiopia's opening of bilateral and diplomatic relations with its erstwhile enemy of more than 26 years, Eritrea, as a positive gesture that would help create partnerships across the region.
"Ethiopia has gone through a very turbulent period and right now it is in transition to democracy with new Prime Minister Abiy Ahmed, who has began the process of unifying and reconciling various communities and is also creating new relationships with neighbours of Ethiopia," Raila said.
He continued, "One has been reconciliation with Eritrea. As you know, for a long time there was conflict between Eritrea and Ethiopia but soon after Abiy came to power he moved to seal a peace process between the two countries."
The ODM leader said that Addis and Nairobi shared a cordial relation, adding that the two countries were committed to strengthening their relations.
"We share a long common border with communities across the border and we want to have peaceful relationship and cooperation."