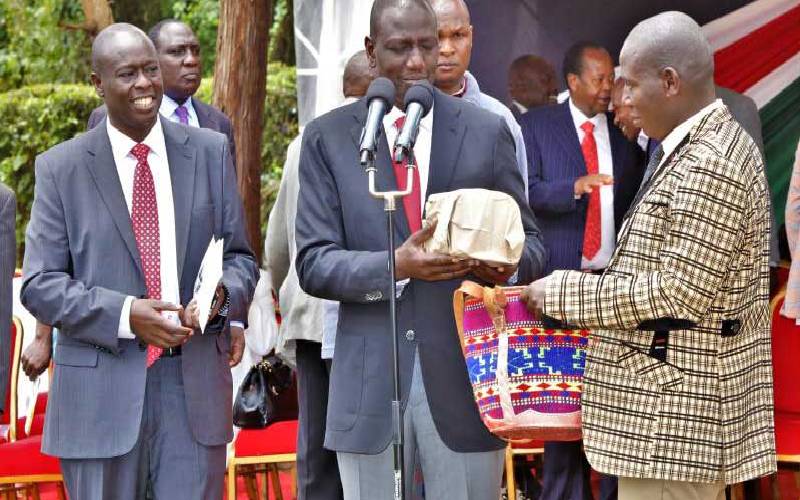 Two days after the deadline for the withdrawal old Sh1000 note was set for October 1, some MPs allied to Deputy President William Ruto now want the period shortened to allow them to donate to church without the 'noise'.
Saying they have nothing to hide, the politicians who have been put to task to disclose the source of their huge donations in church harambees even urged President Uhuru Kenyatta to move the October deadline to July.
The MPs who addressed the congregation at a church service in Kahawa Wendani on Sunday led by Ruto said they welcomed the move, but felt October was too far.
Langata MP Nixon Korir said the deadline should be shortened so that their opponents can stop accusing them of donating stolen money in churches and harambees.
Read More
"We want the deadline to be shortened to a month so that when we go to church in a month's time to give tithe, they will have nothing to tell us," said Korir.
Nyali MP Mohamed Ali said they want to serve Kenyans without the ongoing propaganda that they are hiding stolen money somewhere and that they donate in various fund drives across the country.
"Mr Deputy President, when you go back, tell the President that October is too far. Let him push the deadline to July or two weeks so that we can end some propaganda out there," said Ali.
The Tanga Tanga brig, which read politics in the directive, said moving the deadline will help them demystify the propaganda out there that some of them have stolen and hidden money in their houses.
"There are some people who think some of us are hiding bags of money in our houses, let the deadline be moved so that the truth can come out. Kenyans want to know the thieves," said Kiharu MP Ndindi Nyoro.
Kikuyu MP Kimani Ichungwa maintained that the October 2019 deadline was too far saying it should be brought forward to July.
"Central Bank Governor said we have four months up to October. I think that is too far away. If it is possible, the president should make that the deadline for the validity of the Sh1000 notes," said Ichungwa.
Big for wallet
The legislators also said the old Sh1000 note is too big for the wallet and that they want something smaller to use in harambees.
"We need this new small one. The old one looks too bulky even when one has just given something small, it appears like you have given a lot."
There has been speculation that top government official, parastatal chiefs and politicians are hoarding hundreds of millions of illegal cash in safes.
Speaking when he unveiled the new legal tender at the Madaraka Day celebrations in Narok, CBK Governor Patrick Njoroge directed that all the older Sh1000 series to be withdrawn and that all persons have until October 1, 2019 to exchange the notes, after which the older ones will cease to be legal tender.
Today the governor advised people with less than Sh 500,000 in cash to exchange it at their banks if it is in the old notes and those with Sh5 million and above to do so at the Central Bank of Kenya.