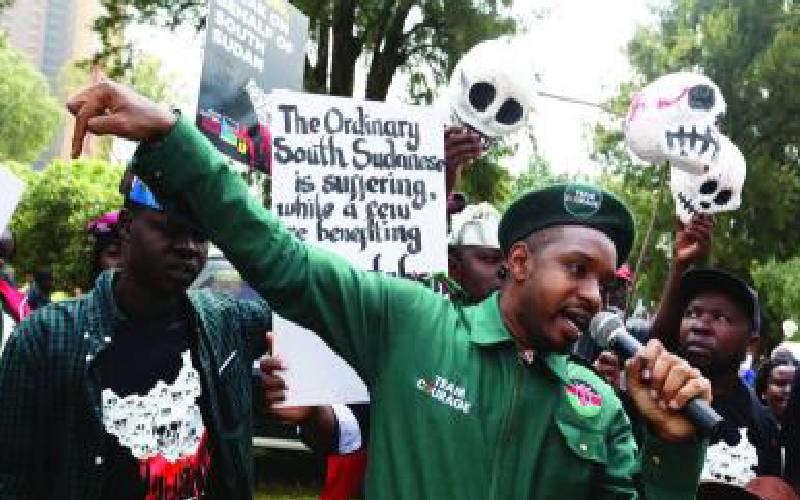 Activist Boniface Mwangi was yesterday arrested, questioned and later released by police over suspicion of plotting to stoke civil unrest.
Mr Mwangi is accused of planning a revolution against the Jubilee government over ongoing cases of corruption.
Detectives from Nairobi's Central Police Station picked him from his residence in Nairobi West and took him to the station for questioning.
"I have been arrested by DCI from my house. We are headed to Central Police Station. I haven't been told the reason for my arrest," Mwangi tweeted.
Read More
But Chief Inspector of Police George Muchiri, who is attached to the DCI, said they were investigating an alleged organisation of a revolution involving the activist that was likely to cause civil unrest and a breach of peace.
Boniface Mwangi
"I have reasons to believe that Boniface Mwangi has information that may assist the police with the inquiry over the revolution," he said in a statement.
In the statement, Muchiri cautioned Mwangi that he was not obliged to state anything and should he decide to state anything, it would be taken down in writing and might be used as evidence.
Mwangi said he was only a photographer, adding that he had nothing to say over the inquiry into the said revolution.
The said revolution was part of the April 30 march organised by Red Vests Movement that aborted at Uhuru Park. Police dispersed the group that wore red T-shirts and planned a march to various Government institutions to condemn rampant corruption.
The group is a concerned citizens' movement formed on February 26, following discomfort that emanated from perceived normalisation of graft.
It emerged that police were investigating claims of emergence "of gangsterism" and organised crime in the city. A number of staff at Nairobi County were yesterday summoned and questioned over the claims.
This followed the Labour Day's incident in which more than 200 riders disrupted an event at Uhuru Park. Police feel the group was organised somewhere and facilitated to ride through the city with impunity.
A number of county government officials were yesterday summoned for questioning over the trend.
One of those questioned said he was summoned by officers from the DCI and asked about the riders and other groups that had emerged, claiming allegiance to a top county official.
"I told them I don't know the groups at all. They seem to be on an expedition to pin the said gangs on someone. I don't know them at all," he said.
Nairobi Area police boss Philip Ndolo said they wanted to understand the origin of the group and its motive.