Senators threaten showdown in push for more county funds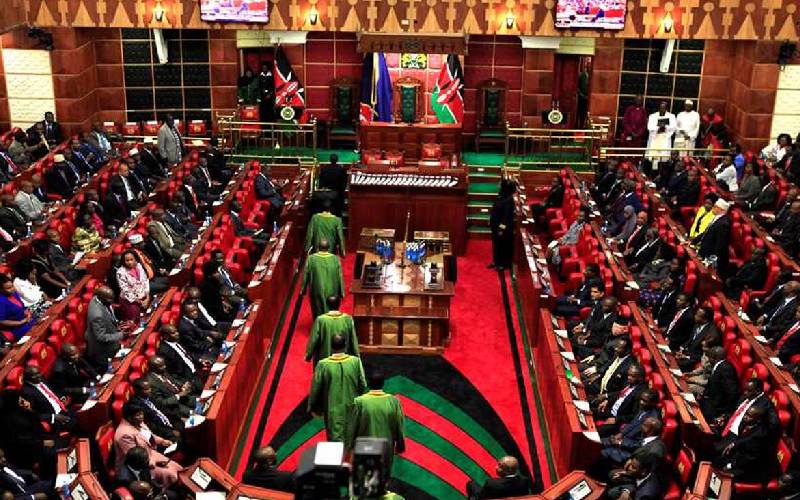 Senators and Members of the National Assembly are headed for a major clash over a proposed reduction of billions of shillings from counties' allocations.
The senators have vowed to reject the Division of Revenue (DoR) Bill 2019, which shares revenue raised nationally among the two levels of government.
Instead, the law makers are proposing an adjustment in the proposed law that will see Counties Equitable Allocation share at Sh335 billion instead of the current Sh310 billion.
In total, they want counties to receive Sh391 billion, inclusive of the conditional allocation of Sh55.4 billion, in the next budget.
For county conditional grants, the senators want the total to be Sh55.4 billion, which comprises Sh900 million as compensation for user fees foregone, Sh4.3 billion for Level Five hospitals, and Sh2 billion for rehabilitation of youth polytechnics.
Senators Mohamed Mahamud (Mandera), Mutula Kilonzo Jnr (Makueni), Moses Wetang'ula (Bungoma), Farhiya Ali (nominated), Ledama ole Kina (Narok), George Khaniri (Vihiga), Mohammed Faki (Mombasa), Samson Cherargei (Nandi), Aaron Cheruiyot (Kericho), Enock Wambua (Kitui), Fatuma Dullo (Isiolo), Samson Ongeri (Kisii), Cleophas Malala (Kakamega) and Mithika Linturi (Meru) opposed the reduction of the Division of Revenue Bill, 2019 passed by National Assembly.
While moving the Motion, Senate Finance chair Mohamed Mahamud wondered why the National Assembly approved Sh310 billion as the equitable share to the counties yet the national government was getting Sh1.561 trillion.
Baseline used
He said the baseline used by national Treasury for the equitable share of the counties started from Sh304 billion, which is less than the 15 per cent minimum threshold provided in the Constitution.
"We, as a Senate, support that counties get Sh335 billion based on the Commission on Revenue Allocation formula. We must reject in totality the attempt by the National Assembly to reduce the allocation to the counties," said Mr Mahamud.
The Mandera Senaor argued that the mandate of collection of revenue lay squarely with Treasury under the national government and counties should not be punished for failure of meeting targets.
He said Senate would not accept any reduction of the Sh314 billion as the baseline for the revenue allocation for equitable share to counties and not allow for any re-allocation.
"Counties can't be punished for failure of national Treasury to meet the national revenue projections. That mandate of generating revenue squarely lies with the Treasury," said Mahamud.
Mr Kina termed the move by Rotich to deny counties funds hypocritical. "We can only start negotiating from Sh314 billion and not less," he said.
At the same time, the senators backed omission of Sh6.2 billion for the Medical Leasing Equipment System in the next budget until the controversy surrounding the project is addressed.
They instead recommend that the funds be reallocated to be part of the equitable share to the 47 county governments, regretting that counties had been charged Sh450 million at source.