When death is robed in a sting of love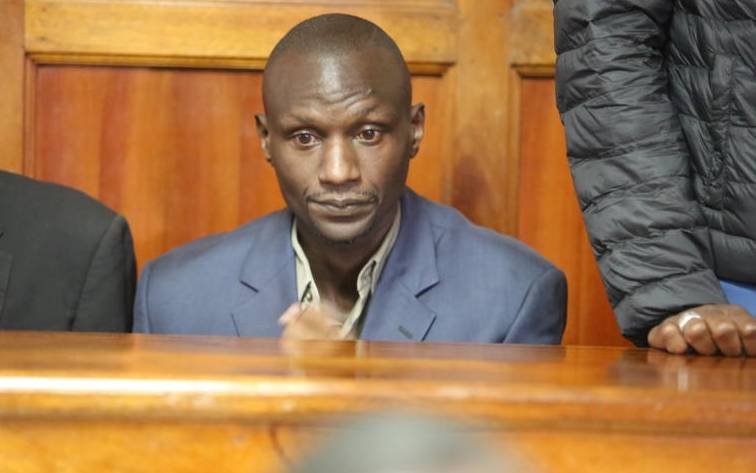 When love turns into hate, no weapon is too big.
Even the very hands which once ceaselessly fondled and caressed become potent weapons while guns supposed to keep enemies at bay are used to neuter lovers.
It is time to live to the romantic vows of loving each other to death.
Renown song bird Dolly Parton aptly captured these instances when she sang:
"To love and hate at the same time
The line between the two is fine
The two have bound me heart and soul
So strong that I can't let you go"
In such instances of madness, ordinary household implements such as mallets, kitchen knives and even pesticides are turned into lethal tools of death.
When an Eldoret based traffic police officer, Andrew Moeche Omenga sold his matatu at Sh300,000 and surrendered the money to a colleague, Eunice Chepkwony, he thought he was doing so in the name of love.
He had met Eunice in 2000 at the Kenya Police College Kiganjo and in the course of their training, fell in love which they hoped to consummate with marriage.
However, as fate would have it they were posted to different stations and were only reunited six years later at Eldoret Traffic Office. By this time they were married and they introduced each other to their respective spouses and the two units became friends.
The camaraderie was shattered in 2007, when Eunice's husband died in June and the two police officers rekindled their love, although this time clandestinely.
When Mr Omenga's wife protested about the affair with Eunice, complaining that her husband had died of HIV related complications, the traffic police officer was undisturbed.
To reassure his wife, the policeman convinced his lover to accompany him for a HIV/Aids test. The report was later showed to the wife and was used as a basis to arrange for the man to take Eunice as his second wife.
This appeared to have settled things until a colleague warned him the lover was in a romantic relationship with another man, David Kimutai Too, who had just been elected as Ainamoi Member of Parliament.
The colleague tipped him that his soon to be second wife and the MP were in West Indies Estate in Eldoret town, where he proceeded on January 31, 2008 at around 10am. Court records show that he followed Eunice to the estate and found her and the MP in the car she had bought with his money.
Omenga testified that Eunice was mad with him and even refused to shake his hand for spreading rumours that she was HIV positive.
In his sworn statement, the accused recalled how the gun wielding MP confronted him," Huyu ndiyo yule mjinga amekuharibia jina" (Is this the fool who has disparaged your reputation?).
According to the policeman, his lover immediately demanded to know why he was scandalising her that she had HIV/Aids.
All this time, the accused claimed that Eunice and the MP were pointing guns at him and that is why he first shot the man who collapsed inside the car.
His version was however contradicted by a woman who was passing by who told the court she saw Eunice on her knees pleading "Mogaka usiniue (Mogaka please do not kill me).
Ultimately, Justice David Maraga who was hearing the case concluded that the accused who was already betrothed to her and had even bought that car jointly with her, became jealous.
He ruled: "As I have said, faced with two armed people I find that the accused was temporarily deprived of the power of self-control as a result of which he shot them…. but he should have shot them on the arms or legs to disarm them and not on the head, chest and abdomen as he did." His charges were reduced to manslaughter.
In another love tragedy, journalist Moses Dola is serving a ten-year jail term after he was found guilty of killing his wife, Sarah Wambui Kabiru who was also a journalist.
The two lived together in Umoja Estate Nairobi as man and wife and had one child. Their union began experiencing challenges when Dola lost his job. On the evening of the fateful day May 1, 2011, the couple was said to have been at home in their bedroom. The court was told that Dola left his dead wife in their house and went on a drinking spree while pretending that all was well.
Her lifeless body was found in their locked bedroom carefully tucked in bed. By this time Dola was on the run although he later surrendered and was charged.
Their house-help Eunice Wairimu Mwangi testified that ordinarily Wambui would had over the baby in the morning but on the fateful day Dola asked their house-help to look after the baby as Sarah had left the house.
He at first told Wambui's sister that they had quarreled and Sarah had left the house. He later changed the story and confessed that he had killed her.
High Court Judge Roseline Korir ruled that pressure and joblessness should not be used as an excuse to kill someone after Dola told the court that they had quarreled over finances.