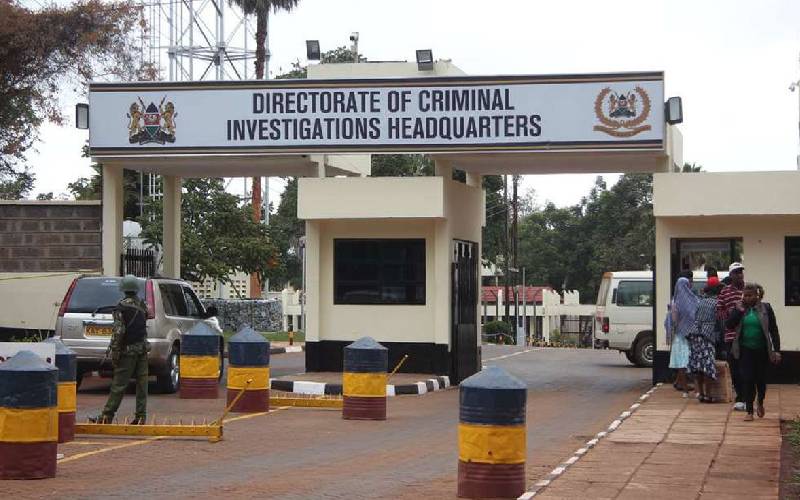 Two police units clashed at a roadblock along the Nairobi-Namanga highway over suspected contraband ethanol.
Two detectives from Directorate of Criminal Investigations (DCI) in Parklands were disarmed in the drama before they were rescued by their seniors who sent them reinforcement.
They were disarmed at the Kitengela roadblock by a team of police officers on Sunday night as they escorted a lorry laden with suspected illicit ethanol from Tanzania.
Officials said the DCI detectives had prior information that the product was being transported to Nairobi.
Read More
They intercepted the lorry in Namanga, but when they demanded to be shown documents, the driver claimed he was carrying maize. He reportedly declined to give them documents.
One of the detectives boarded the lorry while the officers' unmarked car trailed it as they headed to DCI headquarters.
The standoff
The detectives said when they reached Kitengela, they were stopped by armed police officers manning the roadblock.
The detectives said the officers at the roadblock turned against them even after they introduced themselves.
"The officers manning the roadblock became furious and demanded that we alight and hand over our guns at gunpoint. They also took away a certificate of appointment from one of us," said one of the affected officers.
Area OCPD Silas Ringera was informed of the standoff and ordered that the lorry be held at Kitengela Police Station.
In the meantime, head of Flying Squad Musa Yego was alerted and he sent a team to the ground.
Officials said the matter was resolved and the lorry later escorted to DCI headquarters. The driver of the lorry, however, escaped during the confrontation and is yet to be found.
Police said illegal supply of ethanol to Nairobi on the Namanga route was rampant.
A team of detectives was yesterday assigned to investigate the incident and take necessary action on those involved.
The team will seek to establish whether there had been any communication between the teams that man the roadblock and the driver.
"This will enable the officers know if their colleagues were involved in the smuggling of the product," said a senior officer.