Woman recounts death-cheating moment when 40-ton truck crushed her car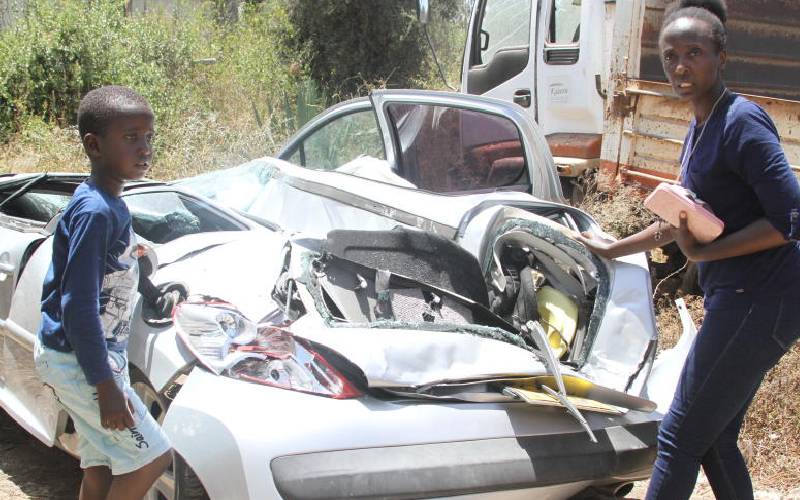 At Athi River Police Station, Ann Rima pauses, deep in thought as she examines the wreckage of what was her car only three days ago.
The events of last Saturday morning still send a cold shiver down her spine.
"It is Go!" she exclaims, fiddling with the crucifix hanging from her neck, perhaps as a sign of how dear she holds onto her faith.
And it is hard not to see the hand of God in her narrow escape: Her beloved car was crushed by a trailer moments after she dashed out grasping her daughter.
We met the customer care representative at Safaricom yesterday at Athi River Police Station as she examined in disbelief what remained of her Peugeot.
"Oh I love this car. I will not sell it. I will keep it in its scrap from somewhere," she said calmly.
Her son, Liam Santo, 8, who accompanied the mother to the police station could not hold back tears when he saw what was left of their car which nearly took the lives of his mother and sister.
Rima had left home in Syokiamu at around 10am to buy some household goods at a GateWay mall, and groceries from hawkers by the roadside.
On the way, her daughter, who had been unwell during the week, became restless and fussy, forcing her to park at a service lane near the shopping centre to get the items and also calm the toddler down.
But as she was parking, she saw a trailer veering off the road and kept an eye on it.
"I saw the vehicle veer off the road. I don't know what made me look up and I wondered why the driver would want to park there, it seemed precarious," said Rima.
At that time, she had already stopped the car but when she saw the 40-ton truck, she thought of driving away from the impending disaster, but on second thought, did not.
But in what looked like a scene from a Hollywood movie, the trailer suddenly began to tip while she and her daughter Natalia were still inside the car.
Sensing danger, she grabbed the girl and darted out of the car. But just after she stepped out, the giant articulated trailer and its 40-foot cargo container tipped over on her car.
"I decided the easiest thing for me to do was grab the baby and jump out," Rima said on Monday.
But recalled she feared she and her baby would not make it to safety.
"When I was jumping I feared had not moved far enough to avoid the truck so I just held onto hope that it would not fall on me and my baby," she said.
From then on everything seemed to be a blur and Rima didn't seem to remember much.
All she remembers is a lot of metal crunching and tires deflating. The roof of the car, a silver Peugeot, collapsed on impact as the container fell onto it shattering its body, save for the driver's door.
"When I turned, I saw the container on top of my car, and the vehicle completely destroyed. I just thanked God for my life and my baby's. God actually saved my life," Rima said.
The driver's door was not crushed, meaning it was open by the time the trailer came down tumbling.
Rima recounts her reaction a few minutes after the incident. For about 10 minutes, she sat still at the scene, tightly holding her daughter, as she tried to recollect what had just happened. It looked surreal.
She remembers some boda-boda operators rushing to the scene to drag her to safety.
As she fled from the hellish scene, she fell on the tarmac and Natalia got a bruise on her forehead and suffered a swollen arm. But Rima knows it could have been worse.
Mother and daughter were treated at a clinic in her place of work in Nairobi and discharged. Despite that, she says her body is still aching due to impact after she fell as she ran to safety.
She also suffered slight injuries on her legs, caused by flying broken glass from her car.
"If I hadn't gone out, I wouldn't have just got the tissue injuries on my right thigh. My baby and I would have been crushed to death, God ordered my steps that day," she said.
She added: "I remember there is a lady who died at KAPA, along Mombasa road in an almost similar manner and I told God I will not be in that statistic. That is what made me get out." At the police station, Rima went back to check on the wreckage, and get her daughter's hospital cards and other personal items.
Rima said she would like to see the lorry driver and ask him some questions.
"I really want to see the face of that driver. I need to ask him what he was thinking at that moment," she said.
Area police boss Samuel Mukuusi ordered the immediate arrest of the truck driver. He was said to have been from Mombasa.
The police believe the driver was intoxicated at the time of the accident.