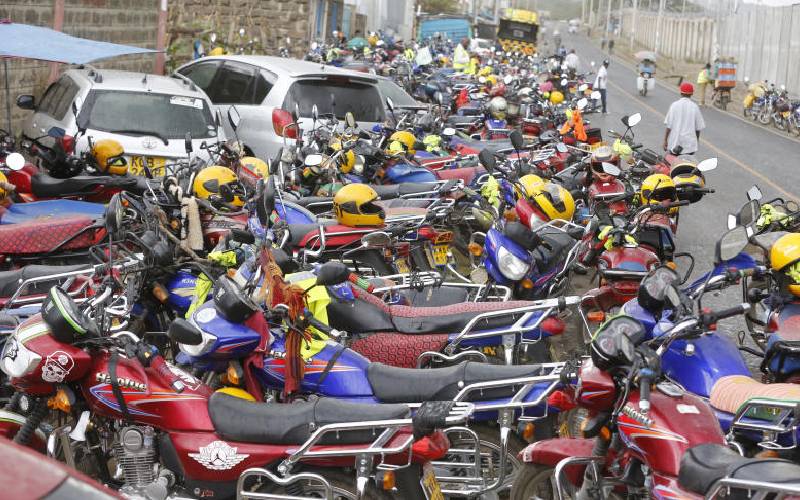 Victims of gangs in the boda boda trade have narrated harrowing tales of how they escaped death from operatives in the bustling sector. A boda boda rider operating in Migori told researchers who compiled the
Boda Boda Motorcycle Transport and Security Challenges in Kenya
report how a passenger tricked him before delivering him to a machete-wielding gang. "I picked up a customer at 9pm within Migori town. Along the way to the suburbs, he said he had dropped his phone and requested I stop so that he could get it.
SEE ALSO: Eldoret boda boda rider killed, body dumped in maize farm
Upon stopping, three men emerged from the nearby bushes and pounced on me with crude weapons," narrated the rider. He struggled and escaped from the killer gang with deep machete wounds to his head and arms. The rider also lost his motorbike. The riders have also accused police officers and county government inspectorate and enforcement officials of harassment, intimidation and extortion. Another respondent in the study narrated how his neighbour's wife – who ran an M-Pesa shop in the estate – was in December 2017 trailed and waylaid at the gate of their apartment by a gun-toting gang riding on a motorbike. "She screamed for help and was shot dead in broad day light. The thugs took off with her day's M-Pesa collection," narrated the respondent.
SEE ALSO: Vodacom quarter one revenue rises on strong data demand during lockdown
Another motorist narrated how he was nearly lynched by boda boda operators after he was involved in an accident with a rider. "In accidents involving boda bodas and motorists, fellow boda boda riders will always adopt a siege mentality of taking the law into their hands. They accost you, beat you, lynch you and even burn the car involved in the accident," he narrated. The victim said it did not matter even if the boda boda rider was at fault in the accident. "I have been a victim of a boda boda lynch mob after I was involved in an accident. My car was vandalised by a gang of riders and in all honesty, I count myself lucky to be alive today," said the victim. Another rider said they were being pushed to criminal activities by the need to survive and fend for their families in the face of hard economic times.
SEE ALSO: Police arrest man caught on camera stealing at M-Pesa shop
"My involvement in boda boda transport and sometimes criminal activities is driven by the lack of employment for many young people," he said. Yet another informant who had a nasty encounter with criminals on two wheels narrated how she was robbed by a gun-wielding man riding on a motorbike. "I was walking along a street in the estate to board a bus at 6am when a motorbike slowed down near me and within seconds, the pillion passenger snatched my handbag, pointed a gun to my face and fled," said the woman. "I lost everything from my cell phone, cash and bank cards to crucial identification documents," she added. A doctor at Tenwek Hospital in Bomet County said they received an average of eight cases of boda boda accidents daily. He added that the most common orthopedic injuries were multiple fractures arising from motorcycle accidents. The report says there is no doubt that criminals using motorcycles are an evolving threat to security. It states that whereas boda bodas have revolutionised transport, they are also a time bomb that must be addressed before it explodes.