Revealed: Graphic details of how city lawyer and his four friends were killed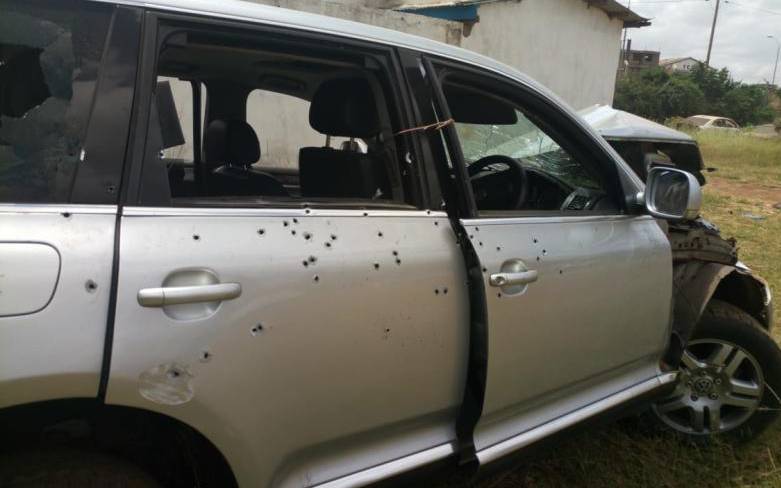 It took 50 bullets to stop a city lawyer and four of his friends after a dramatic chase by police on Tuesday evening in Juja.
The highway car chase and the force of violence have left relatives shell-shocked, and the legal fraternity demanding answers on the circumstances surrounding the killings and the motive.
Last Thursday, when government pathologist Peter Ndegwa conducted an autopsy on Jeremiah Kinyua Meeme's body, it emerged that he had been shot seven times in the mouth, eye, head and stomach.
Another victim, 26-year-old Ian Collins Ojuok, had 18 bullets in his body while a third man had one bullet.
Extensively damaged
The Volkswagen Tuareg car the lawyer and his five friends were driving in is extensively damaged. The driver's side had more than 30 bullet holes while all its widows on the right were shattered. It is currently parked at Juja Police Station.
Yesterday, witnesses contradicted police version of events as they told of a chase by police in three vehicles before the lead car rammed the back of a stationary lorry packed at the exit of Lexo Petrol station.
A police report stated, "Today, 12/3/2019 1930 hours, police officers received information of an intended robbery at Lexo Petrol Station. The six robbers on board a Tuareg Volkswagen alighted brandishing an AK 47. Police challenged them but they defied. They were overpowered and five of them were fatally shot. One armed with an AK 47 escaped."
Martin Kagoni, a witness, recounts how three police cars came pursuing the car amid thunderous gunfire.
"The gunshots were emanating from the railway, about a kilometre away. When the vehicles reached the petrol station, the one in front hit a lorry which had been packed by the road. The lorry was pushed by the car over several metres," says Kagoni.
All this time, the police were shooting at the occupants of the car, concentrating on the driver's side. According to Kagoni it was difficult to establish whether the targets in the car were firing back.
"I saw one man dash from the passengers side and he was pursued by some men who were wielding guns. They asked us where he had run to. They gave chase for a few moments and then returned to the car which was now stationary," says Kagoni.
According to the witness, some officers returned to the car where after sensing some movements opened a new volley of gunfire. Then everything went silent.
Although the police indicated that they had gunned down five suspected thugs, by yesterday Sunday Standard had only managed to identify three of the people killed.
The third man, Amos Ngugi, was Meeme's client as he had a criminal case in Embu.
According to Meeme's wife, Margaret, her husband was fetched from their home at Harambee Sacco estate in Donholm, Nairobi, at 10.22am on Tuesday by Ngugi who was driving the Volkswagen.
"I was not there when he was picked up but from the description I got, he was picked up by Amos. The details of the car were recorded at the gate of the estate. Amos was facing a robbery case in Embu and my husband was assisting him," said Margaret.
Bloody remains
She was called by Lucy, Ngugi's wife, the following day and informed of the unfolding tragedy.
On the day Meeme was shot, 12 lawyers rushed to City Mortuary after a tip-off by a friend where they saw the bloody remains.
Jane Odiya, who described Meeme as an ex-partner in Odiya and Company Advocates, said she was among the first people to be notified about the shooting and she informed the family.
"Meeme was once my associate and we were friends even after he left the law firm. I have grown with him. He stopped practising two years ago. He had grown into a very intelligent advocate who would go to dangerous places to represent his clients," said Odiya.
When asked whether she knew that Meeme had not renewed his practising certificate in the last two years, Odiya said she had been paying for him when they were together.
Another lawyer, Samuel Thuku, said in 2016, he represented Meeme in a criminal case where he was charged with fraud after a client Meeme was representing, sold non-existent land for Sh5 million.
According to Thuku, the slain lawyer was to appear at Milimani law courts on Wednesday for another criminal case but he did not make it.
Ian OJuok, who took 18 bullets, was a very close friend of Meeme's and was described as an enterprising businessman who specialised in purchase and sale of land and vehicles.
"Ian was to celebrate his 26th birthday on Thursday. Unfortunately, that is the day his body was being operated on to extricate the 18 bullets that shattered his life," said Nomael Orengo, a lawyer representing the family.
According to Orengo, Meeme and Ian were inseparable and had spent last weekend together as both loved drinking and partying.
One of Meeme's brothers, Rufus, is a police officer in Ruiru and was representing the family during the autopsy.
The shooting has been condemned by the Law Society of Kenya (LSK).
"Preliminary reports reaching us from the press and the public suggest that the murder may have been carried out by police officers," LSK president Allen Gichuki said.
Meanwhile, the Independent Policing Oversight Authority (IPOA) has launched investigations into the circumstances under which the three friends were killed.
LSK has written to Deputy Inspector General of Police Edward Mbugua and Director of Public Prosecutions Noordin Haji, asking for investigations, arrests and prosecution of the murderers.