Kenyans skeptical despite start of DNA harvesting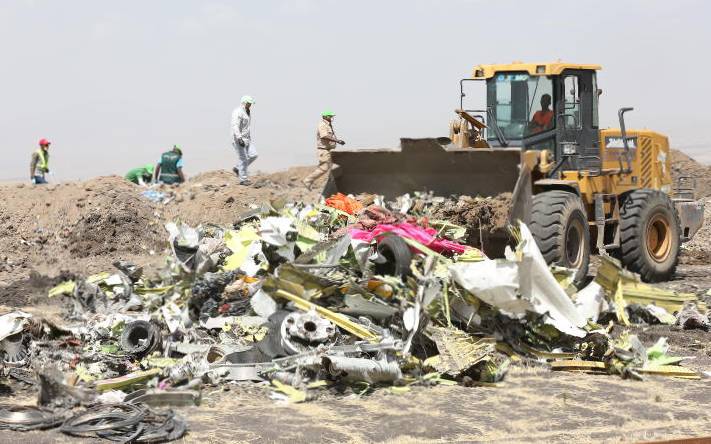 Ethiopian authorities last evening started collecting DNA samples to be used to identify bodies of those killed in Sunday's plane crash.
It came after a protracted daylong fight, which gave the grieving families some reprieve amid scepticism that it was intended to shake them off. Those who spoke to The Standard said the issues they had raised earlier in the day, regarding when the remains would be released, had not been addressed.
Instead, the authorities only promised that DNA results would be handed to them, albeit with no timelines.
A father, visibly pained by the loss, expressed his anger over the slow pace of investigation. He said that while the examination was a scientific process that might take long to conclude, it was only fair to have a written commitment on when the results should be expected.
"We need something we can hang on to, which can be considered a commitment in court, for instance," said the elderly man who was advised by the daughter not to reveal his identity.
It is likely that the daughter's reservations were informed by the perception that the Ethiopian authorities were reluctant to engage the victims' families honestly.
He was among the frustrated Kenyan families who encountered a less than cordial treatment from Ethiopian authorities yesterday after demanding to know the way forward.
His fears about the shaking off claim were compounded by expert views, earlier shared by forensic scientists, who feared that a DNA analysis of the remains was unlikely.
The scientists, working for a British firm contracted by Ethiopian Airlines to help in the investigation, earlier said that the recovered body parts may have been compromised in the crash.
To begin with, the bodies are badly damaged, so much so that the biggest parts recovered are no more than a few inches long, making it unnecessary in their view, to hand them over to families.
A narrative by the Ethiopian authorities is that the bodies were shredded, hence impossible to identify, the work involved would be too laborious.
However, the theory has been dismissed by Kenyans, and 34 other nationalities, who claim identifiable remains were recovered from the crash scene following the Sunday morning crash.
Their thinking is based on circulated photos believed to have been from the accident scene - some 60km from Bole International Airport.
A subsequent visit to the site only helped cement their belief, raising fresh questions on exactly what was recovered, where it was taken and the motivation in refusal, if any, to facilitate identification of remains through DNA analysis.
Had the Ethiopian authorities been clear on these questions, Mohamed Kilo - a relative of a victim from Wajir - believes yesterday's clash and chaos at a meeting between the airline and families would have been avoided.
"Why can't they just show us the recovered remains; I think they are determined to hide that from us. We are deeply saddened," Kilo told The Standard.
Some 22 members of his extended family, including uncles and cousins, arrived in Addis Ababa on Monday and had by last evening given up on finding any remains. They flew back home distraught.
Kilo's family lost two members, a woman and her adult son, travelling from Germany to Kenya via Egypt Airlines, before a fateful twist that involved changing flights in Cairo to Ethiopian Airlines.
One family member and a Nairobi-based journalist were among those ejected from a mid-morning consultative meeting for demanding answers.
At least 20 relatives of crash victims arrived in Addis Ababa from Nairobi yesterday.