IPOA, LSK seek answers on police shootings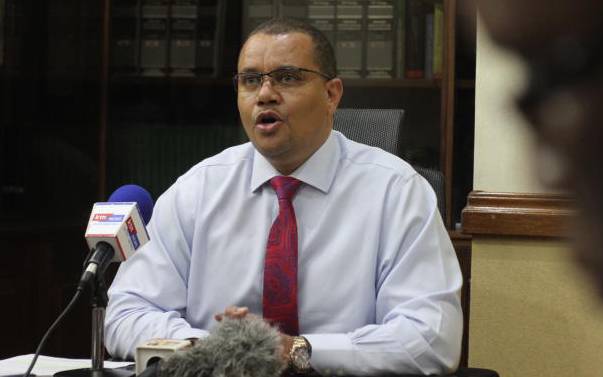 The Independent Policing Oversight Authority (IPOA) has launched investigations into the killing of four including a lawyer last Tuesday night.
And the Law Society of Kenya (LSK) has written to the Deputy Inspector General of Police Edward Mbugua and Director of Public Prosecutions Noordin Hajji asking for investigations, arrests and prosecution of the perpetrators of the murder of Jeremiah Kinyua Meeme, the slain lawyer.
The four were killed in Juja, Kiambu County after police opened fire on them on allegations that they were robbers who had first shot at police.
Police say they were five but one escaped.
They died inside their vehicle after it was sprayed with over forty bullets.
Police said that they had laid an ambush on them after receiving information on an intended robbery at Lexo Petrol Station, in Juja Township.
Police said that one of the alleged robbers with an AK 47 escaped and they had shot the others who had brandished pistols at them.
IPOA said that it had immediately launched investigations "with a view of unravelling the circumstances that led to the fatal shootings."
"Upon conclusion, if culpability is found, the Authority will ensure the responsible officers face the full force of the law through appropriate criminal or disciplinary recommendations to the Director of Public Prosecutions and other suitable Government Agencies," said IPOA chair Anne Makori.
According to police they recovered from the robbers weapons including an AK 47 magazine with 25 rounds, three homemade pistols, a police shirt and pullovers among other items.
Their bodies were taken to City Mortuary for identification and autopsy, however, one body is yet to be claimed.
The LSK letter is also copied to the Director of Public Prosecutions Noordin Hajji.
LSK President Allen Gichuhi said that "there can be no greater threat to the rule of law in this country than when defenders of the rule of law are placed in mortal and personal danger due to extrajudicial executions."
"I must appeal to your good offices to conduct most urgently a thorough investigation to identify these evil perpetrators who must then be apprehended, arraigned in court and prosecuted accordingly," said Gichuhi.
Family and colleagues of the slain lawyer Jeremiah Meeme maintained his innocence but refused to divulge more details as they asked to be allowed to grieve.
It was not clear why they had gone to Juja, but an acquaintance hinted that one of them had a case in Embu and that's where they were coming from.
Family said that he was shot at least seven times including once in the mouth and twice at the chest.